The Meteoric Rise in Trading Services
In a digital age where financial literacy is becoming increasingly accessible, Malaysia is emerging as a hotspot for trading services. According to recent data, the country has seen a phenomenal 6.1% year-over-year growth in user engagement on trading platforms, attracting more than 1 million active users monthly. This surge is not just a mere statistic; it's a testament to Malaysia's burgeoning role as a financial market hub.
The Driving Forces Behind the Surge
The uptick in trading services can be attributed to a confluence of factors. The global economic landscape is in a state of flux, compelling individuals to diversify their investment portfolios. Moreover, the advent of user-friendly online trading platforms has democratized access to financial markets, making it easier than ever for Malaysians to engage in stock trading, forex, and cryptocurrency exchanges.
Forex: The New Investment Frontier
According to a recent study by OctaFX, the number of Malaysians investing in Forex has skyrocketed by a staggering 41%, growing from 1.6 million to 2.2 million within a year. This surge is not merely coincidental; it's a byproduct of increased trust and awareness. The data reveals a 50% growth in the level of trust towards Forex brokers and a 59% increase in market awareness.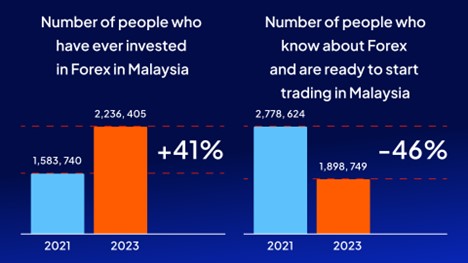 'Forex trading's popularity among Malaysian investors has been noticeably growing since early 2022,' states Kar Yong Ang, the OctaFX financial analyst.
The Untapped Potential
OctaFX's study also sheds light on an intriguing phenomenon: a large pool of potential investors who are yet to make their foray into Forex. While approximately 650,000 have taken the plunge, around 1.9 million are still weighing their options.
OctaFX's 2022 research indicated that 78% of Malaysians are familiar with Forex, outpacing awareness levels for stocks (76%) and cryptocurrency (74%). In the past year alone, 42% of OctaFX respondents have invested in Forex, making it the second most popular investment tool, trailing only behind cryptocurrency at 44%.
"In recent years, there has been a notable shift among Malaysia's Forex brokers, placing a strong emphasis on transparency," states Kar Yong Ang. "Those who excel in providing genuine value for customers thrive, while those solely focused on exploiting them gradually fade into obscurity", he adds.
The 2023 Outlook: A Promising Horizon
Given the robust growth and burgeoning trust in Forex trading, the future looks promising. As Malaysians become increasingly well-informed about the Forex market—thanks in part to Forex brokers providing insightful market analysis and educational resources—the stage is set for an even greater influx of investors.
Malaysia is fast becoming a nexus for financial market participation, with Forex trading at the forefront of this revolution. The data speaks for itself, and the future, it seems, holds even more promise.