A Pioneering Venture in Macau's Hospitality Landscape
Galaxy Macau™ and Hyatt have joined forces to introduce Andaz Macau, a groundbreaking hotel that opened its doors on September 15, 2023. This monumental launch marks Andaz's first foray into Macau and establishes it as the brand's largest global property. With over 700 meticulously designed rooms and suites, the hotel aims to offer an authentic experience of the "real Macau," enriched by a curated collection of artworks and artifacts that celebrate the city's unique heritage.
An Architectural Marvel Nestled Between Tradition and Modernity
Strategically positioned between the historic neighborhoods of Old Taipa and Coloane, Andaz Macau serves as a gateway to both the city's cultural gems and Galaxy Macau's top-tier amenities. The hotel's dual towers are seamlessly connected to the Galaxy International Convention Center (GICC) and the 16,000-seat Galaxy Arena. This makes Andaz Macau an unparalleled choice for both MICE (Meetings, Incentives, Conferences, and Exhibitions) guests and leisure travelers, thanks to a dedicated check-in lounge designed to expedite large group arrivals.
A Sanctuary of Comfort and Elegance
Upon entering the Andaz Lounge on Level 6, guests are greeted by an atmosphere reminiscent of a chic residential living room. The lounge is a harmonious blend of Macau's historical elements, from Portuguese-style mosaics to couture gowns that showcase both Portuguese and Chinese craftsmanship. It serves as a communal space where business travelers can network over artisanal coffee, and leisure guests can unwind after a day of exploration.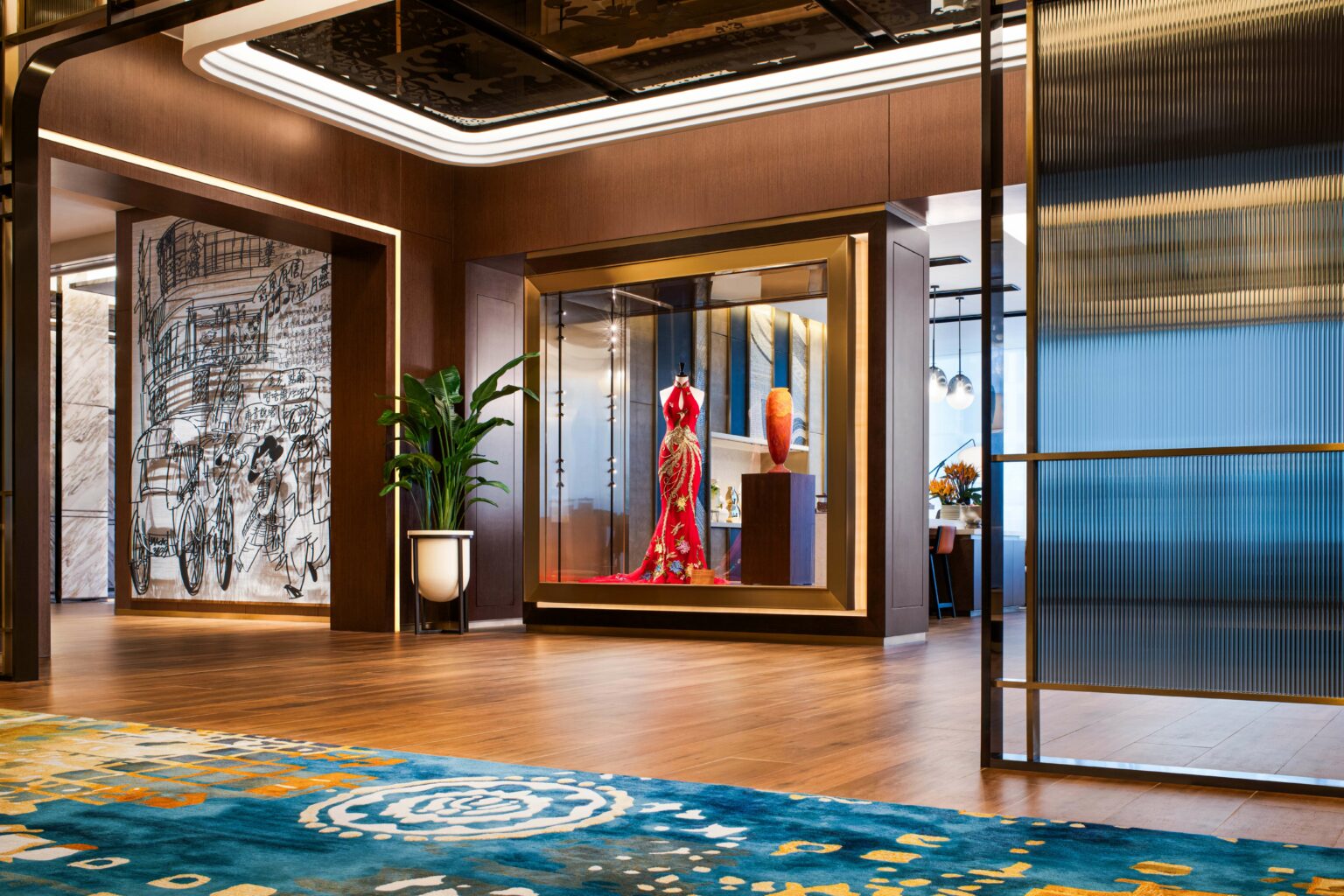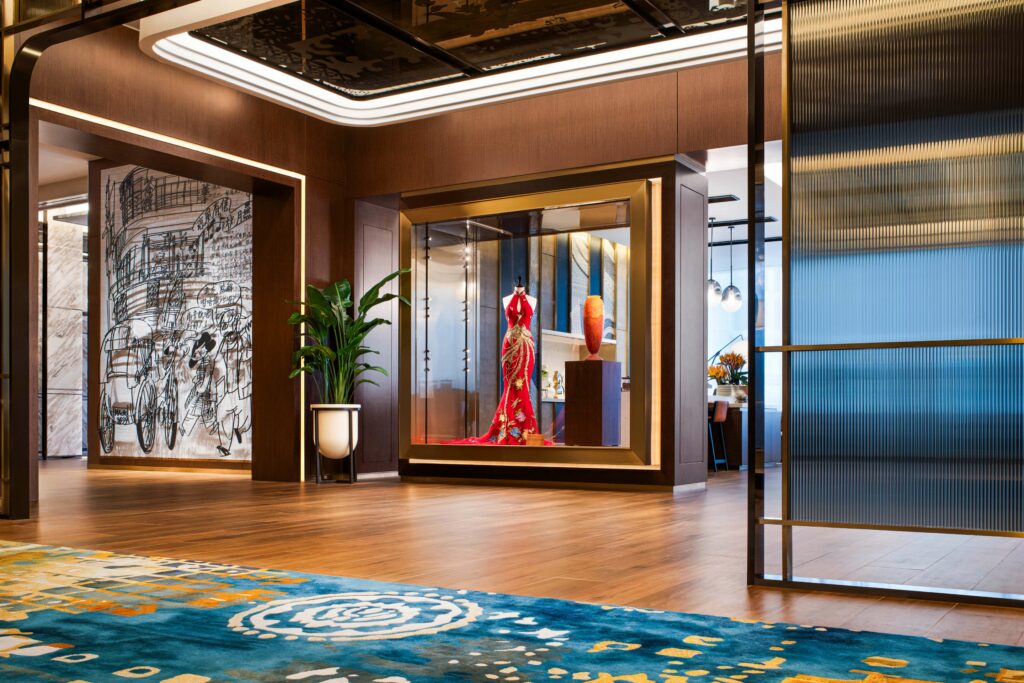 The hotel's accommodations are a tribute to the local landscape, featuring a color palette inspired by the lush greens and earthy oranges of the surrounding areas. Ranging from 35 sqm guestrooms to expansive 68 sqm suites, the rooms offer innovative layouts that seamlessly integrate the bedroom, bathroom, and lounge, all complemented by locally sourced amenities.
World-Class Amenities for an Unforgettable Stay
Guests can indulge in a plethora of amenities, including a heated 19-meter indoor swimming pool, a 24-hour fitness center, and complimentary access to Galaxy Macau's Grand Resort Deck. The hotel's unscripted service ensures a warm, personalized experience, allowing guests to immerse themselves in Macau's eclectic culture.
A Culinary Journey Through Macau's Rich Flavors
Andaz Macau is not just a hotel but a culinary destination. It houses three distinct dining venues, each offering a unique gastronomic experience. Andaz Kitchen, the largest of the three, is an all-day dining hub where chefs engage in live-action cooking, serving an array of Portuguese, Macanese, and international dishes. The design of Andaz Kitchen draws from Macau's architectural heritage, featuring Portuguese mosaic tiles and wooden archways that evoke the city's maritime past.
Adjacent to Andaz Kitchen is Andaz Studio, a versatile space designed to host a variety of events, from MICE gatherings to cocktail receptions. The intimate Andaz Bar offers a curated selection of cocktails and locally brewed beers, set against a backdrop that pays homage to Macau's European architectural influences.
A Tapestry of Art and Culture
Andaz Macau's design is a masterclass in storytelling, offering guests a visual journey through Macau's rich cultural tapestry. From the moment guests arrive, they are greeted by "Landscapes Interlaced," a large wall installation that combines day and night photographs of the Macau skyline with natural elements indigenous to China and Macau. The hotel also features a series of steel sculptures by Malaysian artist Tang Mun Kian, as well as a unique staircase, "Macau Steps," which takes guests on a multisensory journey through the city's history.
An Exclusive Opening Offer to Experience the Real Macau
To commemorate its grand opening, Andaz Macau is offering an "Experience the Real Macau" package until December 31, 2023. Starting at MOP1,698, the package includes a one-night stay, a breakfast buffet for two at Andaz Kitchen, free access to the Grand Resort Deck, and a selection of authentic local experiences.
About Andaz
Andaz is a global brand with a local perspective, empowering guests to explore beyond the familiar and immerse themselves in local culture. With 28 properties worldwide, Andaz hotels offer unscripted service tailored for travelers, enabling them to discover their personal essence while experiencing the eclectic culture around them.