As more women take up running for fitness and leisure, concerns about female safety while running have become a big issue. Adidas, a well-known sportswear company, has released research addressing women's concerns regarding track safety. 92% of female runners are concerned about their security, with over half stating fears of physical assault. More than a third of women have been subjected to physical or verbal harassment, and more than half have been subjected to some form of harassment, such as staring, name calling, unwanted sexual attention, honking, or being followed. Research shows that women take a bigger emotional and physical hit from harassment than men do.
Even though I adore jogging, these figures make me worried. Running is liberating and empowering. However, for women, it often comes with a sense of fear and vulnerability. I am a working mother who often juggles her time. The plethora of responsibilities often don't permit me the leisure of going running during daylight. Therefore, I, and many others (women) I know, have given up on the sport because of the inherent dangers of running alone, that too at night!
Women's Safety While Running
The statistics on women's safety while running are appalling. According to a survey conducted through the Adidas Running app, 68% of women have taken precautions to help them feel safer when exercising outside, such as jogging with one earphone in, bringing an alert whistle, and wearing loose clothing. 38% of the women polled said they had personally experienced physical harassment or assault, and 50% said they were afraid of it.
These numbers show that women are taking precautions, but they also show that there is a problem with the system as a whole. Women should not have to take extra precautions to feel safe while exercising. Running should be an activity that women can enjoy without fear. It should be as freeing for us as it is for men.
Now let me give you the bigger implications of this problem: the lack of safe training opportunities. It is another issue that female joggers are struggling with. Despite the fact that competitive events are frequently held in the spring and summer, women have few opportunities to train in a risk-free environment, or what we call "the daylight hours." This is why the recent decision to move the London Marathon back to April could be especially discouraging for female runners, who would now have less time to prepare in daylight.
Adidas' "The Ridiculous Run" Campaign
It is extremely encouraging to see companies like Adidas striving to fix this problem. The brand recently started a campaign called "The Ridiculous Run" to bring attention to women's safety and encourage men to stand up for them.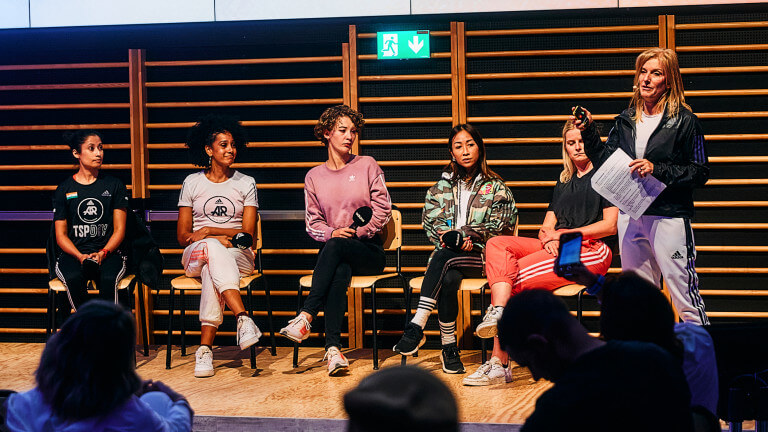 The campaign's playbook was written with the leading charity, White Ribbon, to get more men involved in advocating for women's safety. The playbook has tips on how to keep female runners from being harassed and make their surroundings more welcoming. The goal is to give female runners safe places to run and to make long-lasting changes at the local level with the help of allies. The campaign also includes new runner safety features added to the Adidas Running app. Runners can now choose who can see their real-time location. This gives solo female runners an extra safety net.
Samsung's "Night Owls" Advertisement
Although some companies, such as Adidas, have taken measures to ensure women's safety while running, others have not. On one hand, I appreciate Adidas' efforts to bring attention to the measures women take to feel safe while running. On the other hand, Samsung's new commercial campaign for the Galaxy Watch 4, Galaxy Buds 2, and Galaxy S22 phone, dubbed "Night Owls," disappointed me. Running alone at 2 a.m. through dark streets and alleyways seems like a highly unrealistic and unsafe scenario, especially for women.
In the "Night Owls" commercial, a young woman jogs around a deserted park at night without noticing anything about her environment. Social media users were very critical of the advertisement, highlighting how tone-deaf it was. The ad seems to insinuate that women should feel secure going for a run at night on their own, which is not the reality for many women.
However, the company was prompt in apologising and said that "The Night Owls campaign was designed with a positive message in mind: to celebrate individuality and freedom to exercise at all hours. It was never our intention to be insensitive to ongoing conversations around women's safety. As a global company with a diverse workforce, we apologise for how this may have been received."
Running Free: Innovative Strategies to Empower Women Runners and Create Safe Spaces
Regardless of the reality, it is heartening to see that the world has begun to recognise the problem and is making promising advancements in the right direction.
Nike's "She Runs the Night" initiative organises nighttime runs exclusively for women in order to provide a safe and encouraging environment for female runners.
Girls Run NYC is yet another organisation that brings together female runners and offers free training.
And India is following the lead. As the country is known for having dangerously high rates of gender-based violence, the state of Telangana in India has implemented a system called "She Teams" to prevent harassment and violence against women. As part of the programme, professionally trained police teams patrol public areas on a regular basis and respond to calls from women in danger.
In the UK, the "Runners' Alliance" was made to stand up against bullying and violence against runners. The group's goal is to spread information about sexual harassment and help people who have been hurt by it.
Technology is also being used to make running safer for women. Kitestring and SafeTrek are two personal safety programmes that assist runners in setting up an emergency alert system that sends an SOS message to designated contacts if they feel threatened while out running.
Devices you can wear, like the one called "Run Angel," can give you an added layer of protection by triggering an alarm if an accident occurs.
It is important to note that these precautions alone will not guarantee the safety of a female runner. To make running communities more welcome and safe, these approaches fall short. As a community, it is our duty, and we do have the capacity to make running a safe and empowering activity for women. Women's running safety is still our unwavering focus at adidas Runners.
Earlier in 2022 as well Adidas launched a campaign "With Women We Run", to make running a sport that can be practised safely by everyone is to work to eradicate harassment and all types of abuse against women. While Adidas and other companies are working to address the issue by spreading information and ensuring that female runners have safe places to run. Yet, a great deal of progress must still be made before women can run without risk.
Companies should promote the safety of women runners and provide equal access to training programmes. People can also assist by raising public consciousness, lending support to organisations already working to ensure women's safety, and advocating for stricter regulations in this area. If we join forces, we can ensure that women worldwide are free to move around in any way they see fit and at any time they deem fit!