Digital marketing is a process of getting your brand noticed by promoting your products or services to customers through the web. It is an umbrella term that encompasses many channels and techniques, such as search engine optimisation, social media marketing, content marketing, email marketing, and many more.
It optimises website traffic, online presence, lead generation, internet marketing, display advertising, sponsored content performance, and so on.
Digital marketing may be used to advertise a wide range of products and services. It is frequently employed in tandem with traditional or offline marketing strategies, such as television, radio, print, and internet advertising.
In this article:
What is digital marketing?
Why is digital marketing important for your business?
Nine effective digital marketing strategies to promote your businesses
Conclusion
What is digital marketing?
Digital Marketing has been gaining popularity in recent years because of its effectiveness in reaching out to customers across the globe with minimal investment.
Digital Marketing is used in numerous ways depending on your products and services. For instance, if you are a clothing merchant then you can use digital marketing to promote your contemporary designs. On the other hand, if you are an e-commerce company then you can use it to promote discounts and deals on your website or through social media platforms.
Digital marketing, often known as online marketing, is the promotion of companies utilising the internet and other types of digital communication to engage with potential clients. This encompasses not just email, social media, and web-based advertising as marketing channels but also text and multimedia messaging. Digital marketing is essentially any marketing effort that utilises digital communication.
Why is digital marketing important for your business?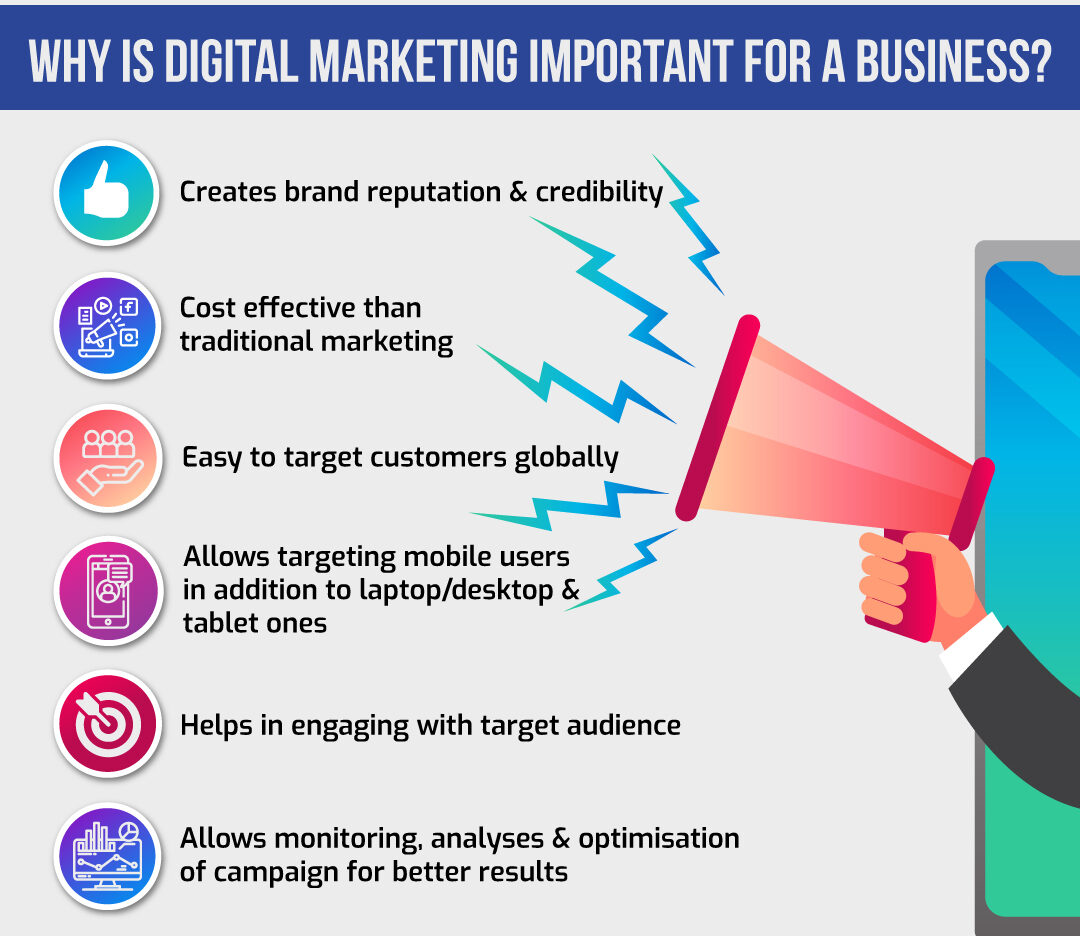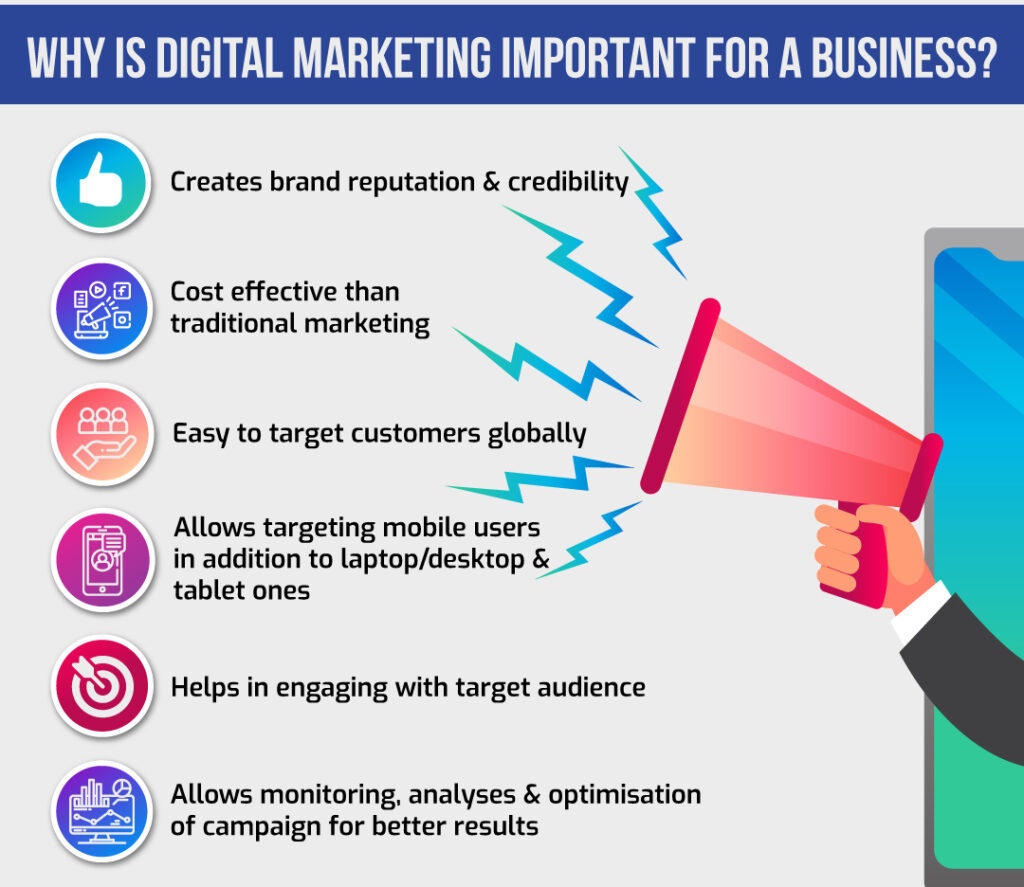 The importance of digital marketing to promote your business cannot be overstated. It is the most cost-effective way to reach out to customers and grow your business in today's digital world. As digital media have grown more accessible, the significance of digital marketing has increased. In April 2022 alone, there were five billion Internet users worldwide.
From social media to text messaging, there are several methods to interact with your target audience using digital marketing strategies. In addition, digital marketing offers low initial expenditures, making it a cost-effective marketing strategy even for small firms.
Further, digital marketing tactics are effective for both B2B (business-to-business) and B2C (business-to-consumer) organisations, however B2B and B2C best practises differ greatly.
When dealing with B2B customers, it is advisable to invest in better to relationship-building techniques owing to lengthier decision-making processes and longer sales funnels. Whereas B2C clients are more likely to respond to short-term offers and communications. Typically, B2B decision-making is backed by reasoning and facts, which is what proficient B2B digital marketers provide. B2C content is more likely to be emotionally driven, emphasising on making the customer feel good about a purchase.
There are obviously exceptions to any rule. A B2C firm that sells expensive products, such as automobiles or computers, may provide more informed and serious material. Consequently, your digital marketing approach must always be focused on your consumer base, regardless of whether you are B2B or B2C.
Nine effective digital marketing strategies to promote your businesses
1. Get a web domain
Registering a domain name is the initial step in developing a website. Your brand name may also serve as your domain name, ( if available) provided you are well established.
If your company is new, you may develop a creative and memorable domain name for your website.
2. Get yourself a website
The next step in your organisation's digital marketing journey is to create a website. The entire digital marketing initiative revolves around the website. This website provides basic information about your firm and its products and services; it is also your initial digital marketing. Additionally, the website can collect leads from those interested in your product or service.
With a website, you may therefore potentially reach the millions of internet users. Internet customers visiting your website are made aware of your products and services and can contact you if necessary. Consequently, you may expand your marketing reach.
3. Hosting the website
Your website will require server space and an IP address to exist on the Internet. Hosting your website entails establishing server space and an IP address. Remember that page loading speed is one of the most important aspects to consider when choosing a web server. A website's performance is highly dependent on its page loading speed.
4. Create content and design for a website
After you host your domain, you must design your website and populate it with content. Relevant and well-written web material will gain traction.
Therefore, you must generate quality content for your website. Content is the single most critical aspect of a website's success. Ensure the website adapts well for mobile devices, such as smartphones and tablets, given increased mobile Internet access. The goal should be to create a "Responsive Website" that adjusts itself for multiple devices and provides a positive browsing experience.
5. Search Engine Optimisation (SEO)
Search engines direct most of the internet traffic. Indeed, you are all acquainted with Google as a search engine.
The user enters search-relevant phrases (called Keywords), and the search engine returns a list of websites that match those words. Obviously, your website should be search engine friendly so that it appears at the top of the list whenever relevant terms are entered.
Search Engine Optimisation (SEO) refers to the tactics used to increase your website's ranks in search engines. Because the search results for a particular search query appear naturally, they are also referred to as "Organic Search Results."
6. Search Engine Marketing (SEM)
Search Engine Marketing (SEM) is an efficient method for increasing website traffic. This is a crucial digital marketing tool to promote business. If you want the search engine to ensure that your website will appear at the top of search results, you may pay for this service. Typically, the search engine will charge you based on the number of times your website is clicked after it has been featured in the search results.
This is a Pay-per-click (PPC) model and businesses invest up to 10% of their paid marketing budget in PPC. Obviously, when two or more parties bid for the first position in the search results for the same terms, the bidder who pays the most per click receives the top position; the second highest bidder receives the second position, and so on.
7. Web Analytics
Digital Marketing Efforts rely heavily on Web Analytics. Since digital channels can access users' digital footprints, they can provide a comprehensive trail of the user in the digital world, allowing the customer's activity to be studied.
This is the fundamental distinction between traditional marketing channels and digital marketing channels; hence, digital marketing is exponentially more effective.
Web Analytics is accessible at the level of specific Digital Marketing tools, such as Google AdWords or any email marketing tool, as well as a distinct solution that integrates all digital channels and provides a consolidated perspective of the success of Digital Marketing Channels. Google Analytics is a well-known Web analytics tool that is available in both a free and a commercial edition.
Web analytics provides a vast array of information on the individuals who visit your website, including their geographic area, age, gender, and hobbies. This demographic information is vital for understanding the behaviour of your target clients.
You may also obtain sophisticated information such as the user's previous website, the length of time he spent on your website, the pages he viewed, etc. With such granular data from web analytics, you can determine your marketing and communication plan for your target consumer groups and increase the effectiveness of your campaign.
8. Social Media Marketing (SMM)
Marketing using social media platforms like as Facebook, Twitter, etc. is referred to as social media marketing. Social media marketing is a successful form of Digital Marketing due to the traffic-generating capacity of these media. It is most effective for increasing website visitors. Social Media Marketing (SMM) provides an abundance of information regarding the efficacy of marketing initiatives, conversion rates, etc.
9. Email Marketing
Email marketing is an integral component of a company's Digital Marketing strategy and it relies on a database of email addresses to which promotional materials may be sent.
There are a variety of email marketing management software available. They give a wealth of analytical data, including the proportion of opened emails, bounce rates, automation of email campaigns, the efficacy of an email marketing campaign, etc.
The interconnectedness of the various digital marketing tools, such as Social Media Marketing and Email Marketing, increases the conversion rate. Email addresses of the users are included in the social media-generated traffic and this information is utilised to enhance your email marketing initiatives, hence increasing your social media conversion rate.
Conclusion
Digital marketing should be one of the key objectives of any company's marketing plan. Never before has it been possible to maintain such regular touch with your consumers, and nothing else can deliver the amount of customisation that digital data does. The more you embrace the promise of digital marketing, the greater your company's development potential will be.
Embrace the promise of digital marketing by implementing the best brand-building practices, to grow your business.