Abbott Laboratories, a renowned healthcare company, is currently battling a lawsuit filed by Joanne Noriega, a resident of New York City. The complainant alleges that Abbott intentionally misled consumers into thinking that its PediaSure nutritional beverages could scientifically enhance a child's height. 
The suit was lodged in a federal court in Manhattan as a potential class action. Noriega recounts purchasing PediaSure Grow & Gain drinks in both vanilla and strawberry flavours for her grandson, who was unusually short for an eight-year-old. She believed these beverages would foster his growth. 
However, by February, after consuming two PediaSure drinks daily for a year, her grandson's height hadn't significantly improved. Worse yet, he had gained excessive weight, compelling Noriega to discontinue the purchase of these drinks. 
Noriega equates PediaSure to a mere sweetened, milk-based beverage enriched with vitamins. She asserts it is not a remedy for children's short stature. Furthermore, she accuses Abbott of being aware that their "Clinically Proven Claim" was misleading and untrue.
The lawsuit aims to seek an unspecified amount of compensation for New Yorkers who allegedly fell prey to Abbott's deceptive marketing, compelling them to buy or overpay for PediaSure.
Abbott Laboratories has dismissed the allegations, stating, "This case is without merit." They maintain that PediaSure is a scientifically formulated, balanced nutritional solution for children, designed to aid their growth and development.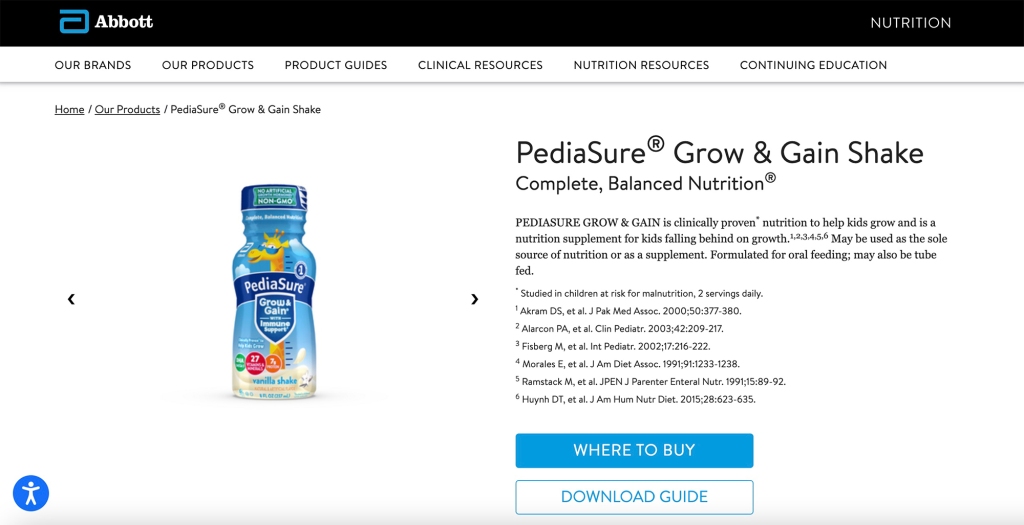 Abbott markets PediaSure for children aged two to 13 and claims that clinical studies have shown it can help children "grow out of at-risk weight-for-height percentiles (5th-25th percentiles)" within eight weeks. 
PediaSure is a significant product in Abbott's pediatric nutritional portfolio, which also includes Pedialyte and Similac. Notably, the company's U.S. sales from this unit plummeted by 29% last year, majorly due to the recall of infant formula from a Michigan factory.
This ongoing lawsuit is registered as Noriega v Abbott Laboratories, US District Court, Southern District of New York, No. 23-04014.
Note: This news is based on an article published on asiaone.