Pacific Senior Living (PSL), a rising star in the senior residence sector, celebrated its grand launch in tandem with World Senior Citizen Day at The Starling Mall from 16th to 20th August. This event not only celebrated the spirit of our elderly but also highlighted PSL's groundbreaking partnership with Columbia Asia, a leading healthcare provider. This alliance promises senior citizens unparalleled medical facilities and services, ensuring their utmost well-being.
Embracing the "Silver Stars" Theme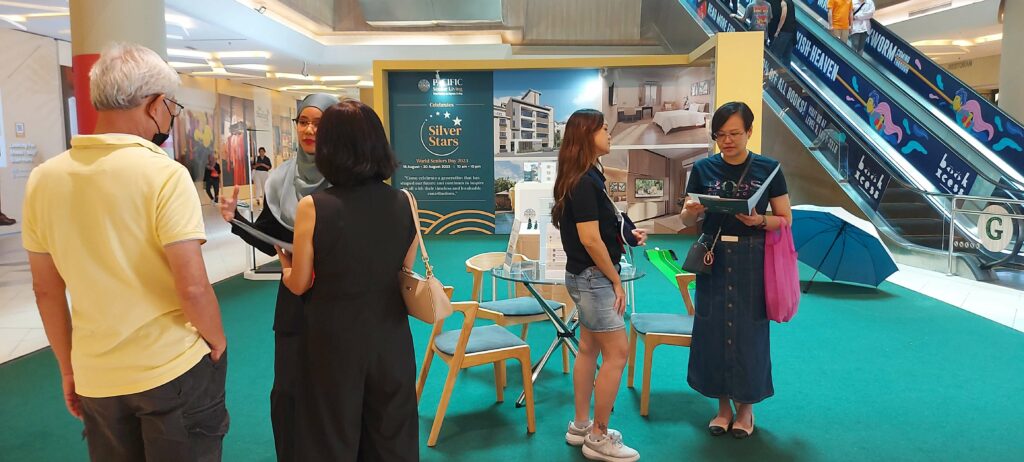 World Senior Citizen Day took on a profound meaning this year as PSL committed to making it an annual tradition. The theme "Silver Stars" was introduced, emphasizing PSL's core values and aiming to establish a powerful brand identity that resonates in subsequent celebrations.
Redefining the Golden Years in Malaysia
Contrary to common beliefs, Malaysia's ageing scenario paints a picture of deep satisfaction and boundless happiness. Carl Nicholas Isaac, CEO of Pacific Senior Living, expressed, "World Senior Citizen Day is a joyous celebration of our treasured Silver Stars – the seniors who have enriched families and society throughout their lives. At Pacific Senior Living, we embrace and honour their wisdom, profound love, and enduring legacy. This special day serves as a reminder to value the remarkable journeys they've embarked upon and the stories that have shaped us and continue to contribute to their learnings till today. We unite to create a nurturing community, ensuring their next exciting and fulfilling chapter of life is filled with comfort, dignity, and joy in alignment with our promise of "Joyous Living" for our residents."
A Commitment to Holistic Senior Care
Dr. Ramnan Jeyasingam, Medical Advisor of PSL, emphasized the company's dedication to holistic senior care. He stated, "Our dedication to enhancing senior care goes beyond words, and our actions reflect our commitment. At PSL, we are focused on providing comprehensive, accessible senior healthcare of the highest quality. As we embark on this journey, we understand the significance of integrated care that prioritises not just physical health but also holistic well-being. The thoughtfully designed facilities within Pacific Senior Living echo this philosophy, offering a nurturing environment that supports residents as they embrace the next phase of life with vitality and grace."
A Day to Remember
The event was packed with engaging activities tailored for seniors, fostering community spirit. Attendees benefited from complimentary health checks, emphasizing PSL's commitment to proactive health and well-being.
Introducing Acacia: A Glimpse into the Future of Senior Living
The event also spotlighted the soft launch of Acacia, PSL's flagship senior living community in the Royal City of Klang. Acacia, meticulously crafted by industry connoisseurs, emphasizes holistic well-being. With 136 diverse accommodation units, it promises an ideal match for everyone. The event showcased Acacia's avant-garde facilities, offering attendees a preview of the exceptional amenities awaiting Acacia's future residents.
Also read: Professor Stan Grant Appointed as Director of Constructive Institute Asia Pacific at Monash University
A New Dawn for Senior Living
The successful launch of Pacific Senior Living was met with fervor and gratitude. This event heralded a new epoch for senior living, where comprehensive care, state-of-the-art facilities, and a nurturing community converge to offer an unmatched living experience.
For more insights into Pacific Senior Living and Acacia, visit www.pacificseniorliving.com.my. Keep abreast of the latest news and offerings by following Pacific Senior Living on Instagram and Facebook.