Affiliate marketing is the fastest-growing segment of online advertising. The revenue of affiliate marketing keeps growing & the potential opportunities keep teetering. The global market size has exceeded $17 billion. It is the most successful marketing channel for 20% of marketers and the top source of revenue for 31% of publishers [1-2].
In this article, we will discuss what affiliate marketing is and how it works. We will also cover some of the best practices to consider when you are starting out in this space so you can get your business off to a good start.
Introduction: What is Affiliate Marketing?
Different Types of Affiliate Marketing
The 3 Essential Steps to Follow
Introduction: What is Affiliate Marketing?
Affiliate marketing allows people to earn money from their own skills without actually having to be hired by someone else. It's essentially like being your own boss because you set your own hours and decide how much work you want to do each day and what tasks you want to focus on.
Affiliate marketing is a business model for selling products or services by partnering with a merchant and earning commissions paid after a sale is made. There are many people who work as affiliates to promote other people's products for a small commission per sale. You may have seen headings marked "affiliate link" or "sponsored post" on many of the websites that you visit. There are various ways to structure an affiliate marketing program. Affiliates are paid on a per-sale, per-action or per-visit basis. Payout are either in the form of commissions or discounts on the affiliate's own products.
Different types of Affiliate Marketing
Depending on how the business makes its money, there are different types of affiliate marketing. Affiliate marketers can make money from commissions, fees, and even just providing website content. There are three types of affiliate marketing: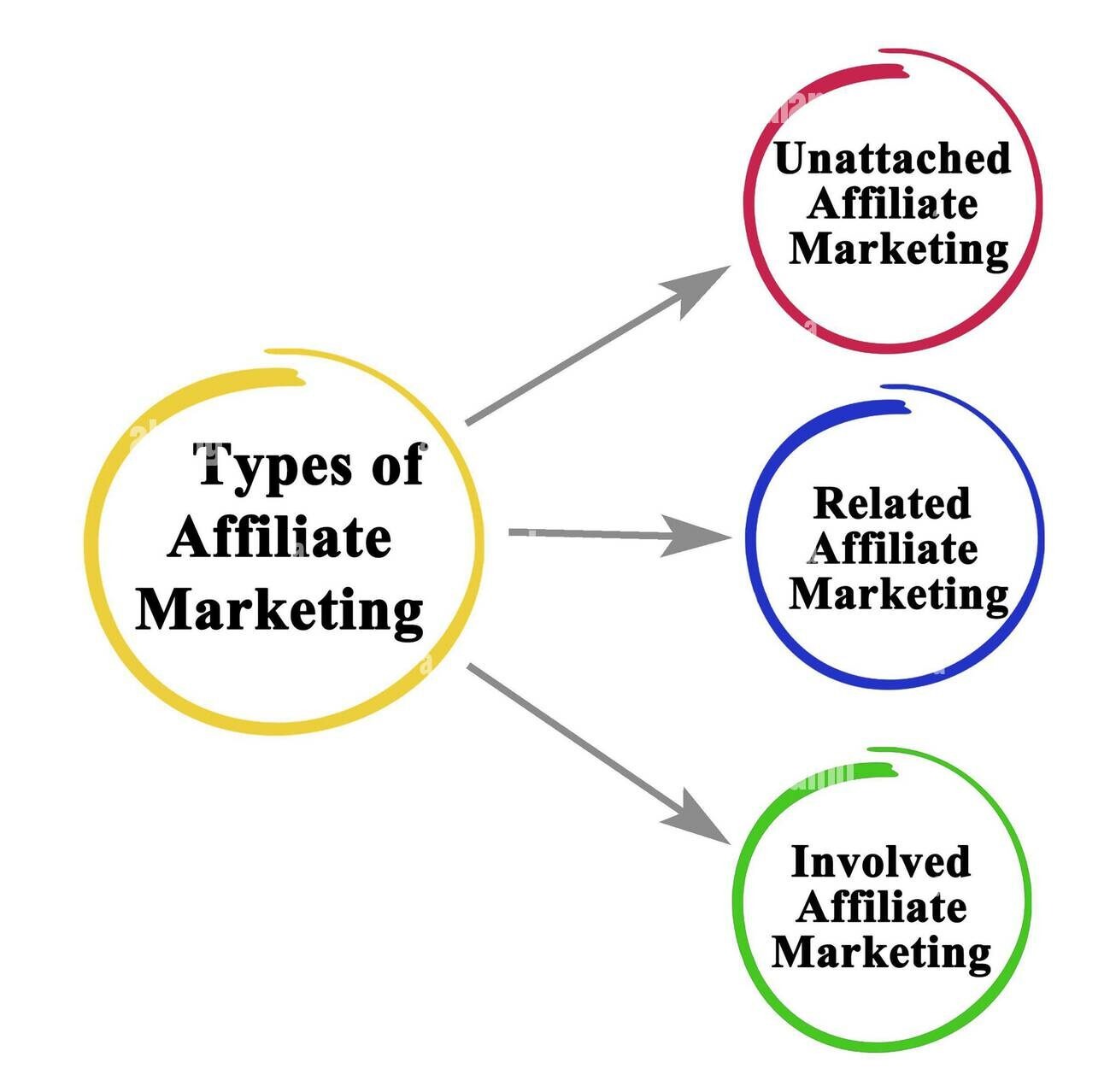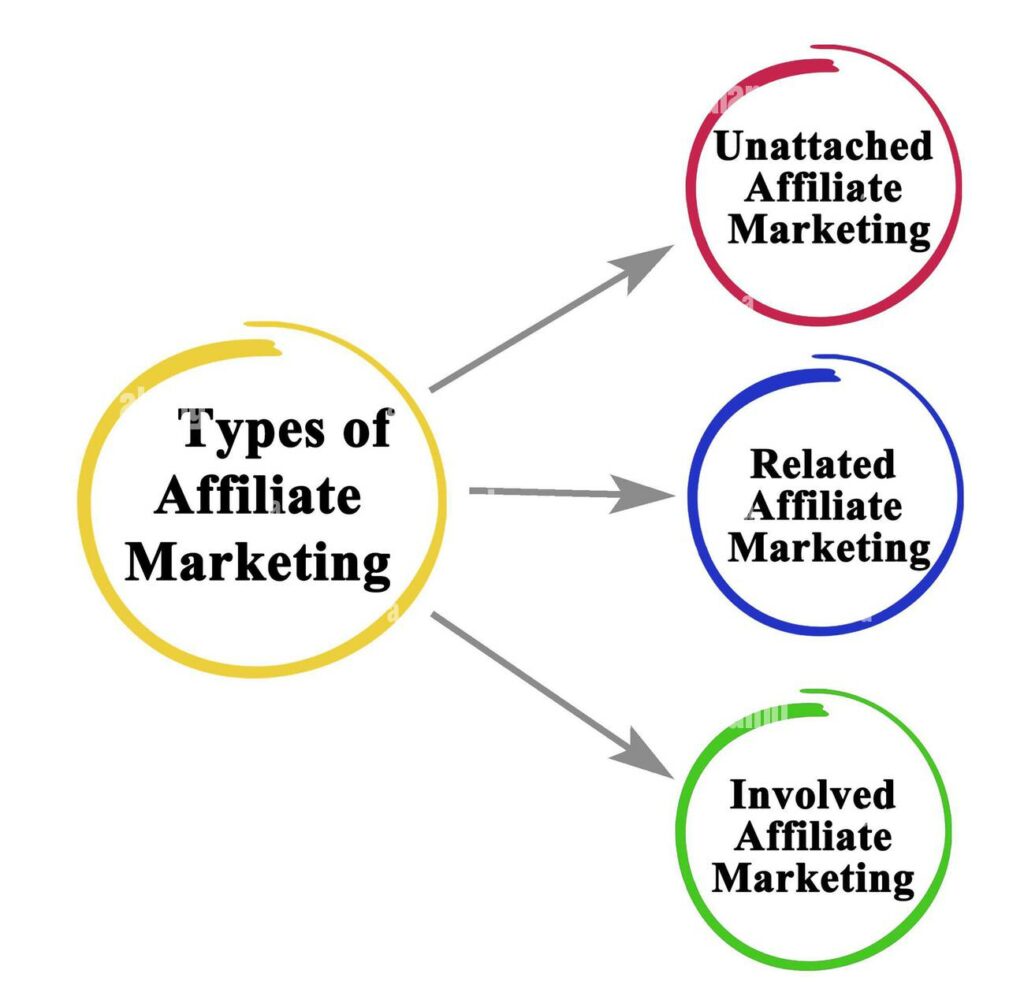 Unattached Affiliate Marketing. Unattached affiliate marketing is a business model that sells products and services to customers without needing an existing company to be involved in the transaction. One of the most successful, and best-known examples is Amway. Which grew to a multibillion-dollar global enterprise in just over fifty years. Amway's success is attributed to its focus on direct selling (also known as multi-level marketing), a business model that sources goods and services from its own salespeople, who are not employed by the company but are instead required to recruit their own sales force and build their own organization which sells exclusively to the public.
Related Affiliate Marketing As the name suggests, related affiliate marketing involves promoting products or services by an affiliate with a connection to the offering. Many affiliate marketing companies need to target their sales efforts at specific niches. Related affiliate marketing is a broad-based way of relating products to one another and trying to sell them as a package. For example, if one company sells shoes, the company can offer an affiliate program that links the purchase of their product with free shipping on a shirt or hat from another company. Affiliate marketing websites refer viewers or readers to other products that may interest the viewer. They are not selling anything themselves but merely offering the option for others to purchase. The affiliate has enough influence and expertise to generate traffic, and their level of authority makes them a trusted source. They also have no claims about any product or service.
Involved Affiliate Marketing. Involved Affiliate Marketing is a way of getting more people on your side. Affiliates know they are using the product and can back up their claims with their own experiences. They provide deeper connections between the company and its prospects which can still be felt even after they are done promoting it. The content provided is trustworthy owing to their experience in their field. However, they can harm their reputation if any problems arise with their offering.
The 3 essential steps to Follow
Affiliate marketing is one of the most lucrative ways to make money online. You can sell a product you're passionate about and potentially earn a lot of money. However, here are three essential steps that you need to take when starting an affiliate marketing business.
Choose a niche that you are passionate about. The first step to starting an affiliate marketing business, selecting the right niche. You have to be passionate about what you're selling to promote it and stay motivated. It is also important that your niche is a marketable one, which means it is possible for you to find other people who are looking for similar products or services. If you are just starting out and do not know where to start, it is best to pick something where the big players already exist. What will make you stand out from the rest? You need an idea that is unique or personal so people will want to learn more about you as a person and trust your advice.
Create a product that you think people will like and buy. What you think people will like and buy will determine the success of your product. It is important to have a clear idea of what your customers are looking for and what they will want in a product. Suppose the product you want to sell is a Bluetooth speaker that reduces the sound of cars honking. Now, people who are out often, such as in a busy city, are annoyed by the constant honking of cars. This would be a product that people will buy because it drowns out the noise of car horns and makes their time outside more enjoyable. Therefore, people will like and buy a Bluetooth speaker that cuts down the noise and lets them enjoy their favourite music even on a busy city street. Focus on that. Use market research to find out the problem and then come up with your solution.
Build your website and design your brand identity. When starting an affiliate marketing business, one of the first steps to take is to build your website. It's important to have a professional website that will attract prospective customers and online leads and also aid in creating brand identity. Designing your brand identity can also help you create a unique and memorable presence on the internet. Brand identity is the design, positioning, and reputation of a company, product, or service. It's what makes your company stand out from the crowd and makes it easy for your audience to identify with. A Marketing In Asia (M.I.A) market research report on best brand-building practices beautifully highlights ways to build your brand identity.
Let's recall the 3 essential steps that comprise an idea for your business that can transpire into a product/service to sell with the help of a visually appealing and engaging website. Simply put, brainstorm, research and build and you are all set to start your affiliate marketing business.
Endnotes
https://mhojhosresearch.com/2020/05/08/affiliate-marketing-is-it-profitable/
https://www.insiderintelligence.com/content/how-publishers-monetizing-through-ecommerce