The marketing industry has recently become obsessed with personalisation, and for good reason! Personalisation means adapting what you sell, provide, or say, to the specific needs of each customer. And with the help of technology and data, businesses can learn more about their clients' habits and tailor their offerings accordingly.
Impact on customer engagement
Let's start with the effect that personalisation has on customer engagement. According to Instapage research, the open rate and click-through rate (CTR) for personalised emails with only the subject line personalised are 7.4% and.4%, respectively, compared to 18.8% and 2.1% for emails with a personalised message. This suggests that personalised messages are read more and generate a higher CTR. The ability to personalise emails may be one of the most important factors in customer engagement, as seen by the following research from McKinsey that highlights that 71% of consumers expect personalised communication from organisations.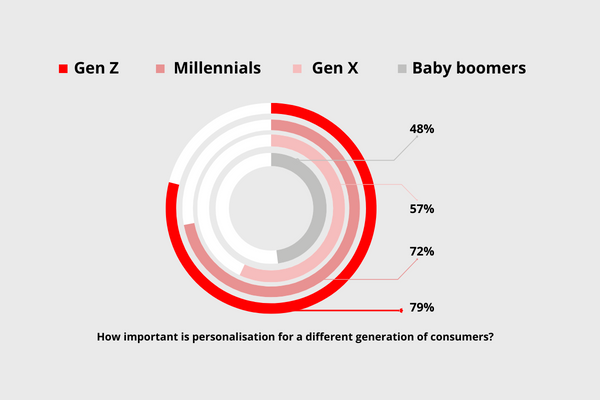 This figure is highest among Gen Z, with 79% saying it's extremely important, followed by millenials (72%), Gen X (57%), and baby boomers (58%).
Impact on loyalty
Let's discuss client loyalty now. According to Gartner, CX is now more important than price and brand combined in determining customer loyalty (66%). According to McKinsey customers whose needs have met are more inclined to continue buying from a company. On the other hand, personalisation's impact on customer loyalty, is still a debate. Some people argue that it is a sure strategy for enhancing loyalty, while others are not so convinced. For instance, we can see that personalisation doesn't have much of an impact on customer loyalty when pricing policies and brand image are taken into account.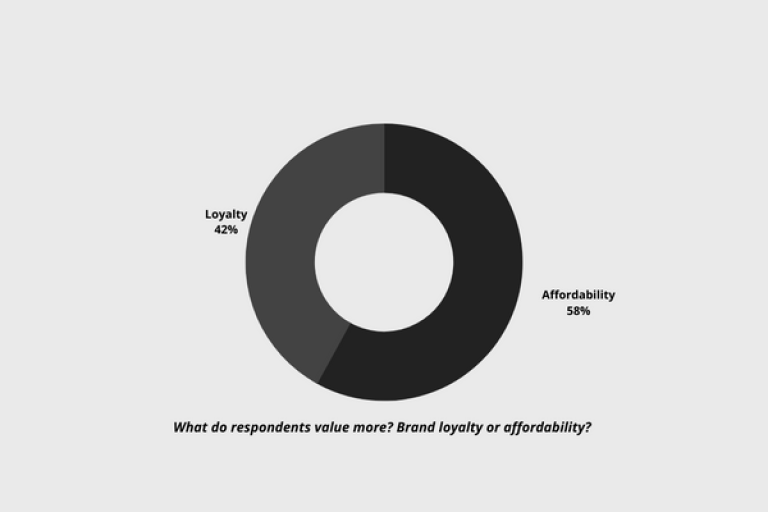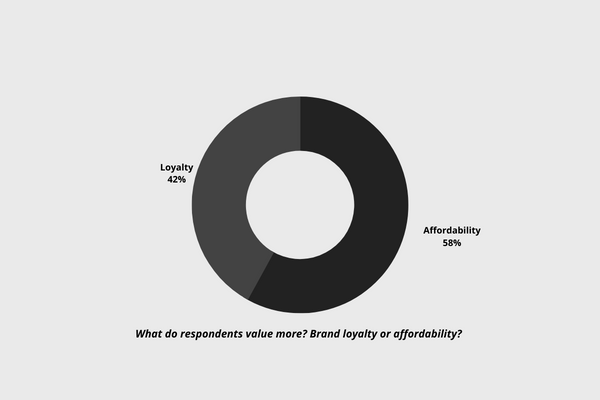 A recent Marketing In Asia's report concluded that a brand must be authentic and affordable to draw people's attention, with 58% of consumers valuing affordability more than loyalty.
Impact on sales
Adding a personal touch increases sales. Personalisation increases a company's profits by large margins. According to studies, the average revenue increase attributable to personalisation is between 10% and 15%, with variations between 5% and 25% varying from company to company. Another study showed that 80% of customers are more inclined to make a purchase from a firm that offers a personalised experience. Thus, businesses that adopt personalised methods may enjoy a large boost in earnings. Customers are more likely to buy because of the personalised experience, which contributes to the rise in revenue. This demonstrates the significance of customiation in consumers' final purchase decisions. Personalisation's positive effect on revenue is amplified when it's combined with the additional benefit of enhanced client retention. Giving customers what they want—a unique experience—increases the likelihood that they will become loyal customers and keep coming back for more.
Here are examples of top 5 multinationals and how they changed the game via personalisation:
1. Netflix
The tailored recommendations that have made Netflix famous are the result of a combination of machine learning algorithms and user data. Netflix is able to make recommendations based on a user's viewing habits in order to cater to their specific tastes. Netflix's customer engagement and loyalty have both benefited from this and what's more? It has saved them a whopping $1 billion a year.
2. Starbucks
Starbucks' mobile app, which lets users preorder and pay for their drinks, takes advantage of personalisation. Because the app remembers each user's past drink selections, reordering a favourite drink is a breeze. In addition, Starbucks offers individualised discounts and promotions as a means of rewarding customer loyalty. The Starbucks Rewards programme, which accounts for 40% of the company's revenue, is responsible for a 7% increase in sales.
3. Amazon
The online retail giant Amazon makes extensive use of customisation features like product recommendations based on a user's past purchases and browsing habits. Advertising for the corporation is likewise personalised; adverts are shown to users based on what those users have previously viewed and purchased. Since 2012, Amazon has derived approximately 35% of its revenue from recommendation engines, either online or via email.
4. Spotify
With Spotify's personalisation features, customers can get individualised playlists and suggestions. The programme makes recommendations based on the user's past musical tastes, current location, and the time of the day. The user's mood, activity, and weather data are all taken into account when making music recommendations, making for a really immersive listening experience. Shortly after receiving $526M from 15 investors in its Series G round in July 2015, Spotify unveiled its first algorithmically created playlist feature, Discover Weekly. The feature, which automatically generates a 30-song playlist based on the user's tastes and listening patterns every Monday, was an instant hit.
5. Zara
Customers can get a one-of-a-kind in-store experience thanks to Zara's use of personalisation. Zara can use information about a customer's tastes and purchases to create tailored window displays that feature things they are more likely to buy. Zara also employs customisation in their online store by suggesting items based on a customer's previous selections. In 2019, the company began offering personalised embroidery on its Denim products and constructed pop-up areas in certain of its retail outlets for advance orders. As a result of its popularity, the company released the "Edited" collection, which allows buyers to customise leather goods by stamping them with their own unique designs. There is now a permanent section of the website devoted to custom orders, and the company has expanded its bespoke offerings to include bathrobes, towels, and other home products over the years.
To sum up, a customised experience is like being in a feel-good romantic comedy with a company that always delivers on your every wish. Increased curiosity, happiness, and spending are all direct results of this strategy. Put some thought into personalisation, and you'll see your revenue soar!