Getting the word out about your local business may be challenging, especially if you have stiff competition. But have no fear! With a well-executed marketing plan, you may increase sales, brand awareness, and customer acquisition. You must have heard, "When in Rome, do as the Romans do." So, when marketing local businesses, do as the locals do. Go all local on it!
So, let's get right in and examine some of the most effective methods of advertising your local business.
Do not remain invisible
Back in the 1990s, whenever my family and I took a vacation in a new city, exploring the city was a task. With no information on the best food outlets, or decent places to stay, our best bet was often the word of a local. However, with the advent of Google, Google became our local friend. Now, before I decide to head out to a new city, the fear of the unknown is vastly diminished. I know, before even stepping foot in the city, all the local eateries, markets, and places to stay.
Therefore, in today's digital world, it is essential to have a robust online presence. To do this, you need to have a well-designed and functional website, active social media profiles, and positive feedback posted about your business online. Customers should be able to easily find the information they need on your website, such as your business's hours, physical address, and contact information. Social media makes it simple to connect with customers and inform them about sales or events. Don't overlook the power of internet reviews to improve your business's standing and bring in new clients.
In fact, a Marketing In Asia report revealed that among the customers who abandoned a purchase, 53% of consumers abandoned it due to a lack of user reviews.
Localise your website
You must be wondering what that means. Let me break it down for you.
If you want to promote a local business, you need to speak the local language. If your website is not optimised for the local population, they might actually miss it. For instance, if you are putting up the location, be specific, by mentioning the exact place. Don't forget to add the location page as well.
Your company's name, address, phone number, and other pertinent shop information may all be included on this page, which also boosts your visibility in local SERPs.
Leverage email marketing
Email marketing is yet another successful advertising method. A vast audience may be reached with relatively little outlay of money. Email marketing campaigns may be used to advertise sales, share news about upcoming events, and inform clients about other company news. Also, by dividing your email list into subsets, you may tailor your communications to certain subsets of your clientele. Campaign Monitor found that the return on investment (ROI) for email marketing was 4200%, which is $42 for every $1 spent.
Get hold of local influencers
Local businesses can also benefit from using influencer marketing to get their name out there. However, the key is to target local influencers. You may reach a new group of prospective clients and expand your reach by forming partnerships with local influencers and promoting your brand to their followers. And it doesn't have to break the bank: influencer marketing is a great way for small businesses to build their reputation and expand their customer base.
Influencer Marketing Hub research indicates that for every $1 a brand invests in influencer marketing, it returns $5.78 on average. In fact, you would be surprised to know that recommendations from influencers impact the purchase decisions of every generation of consumers, with the highest impact on Gen Z (53%).
Get involved with the locals
One more effective method of advertising is to become engaged in the local community. Think about supporting a local sports team or event or organising a charity gala or giveaway. This is great for both your company's image and its reputation in the neighbourhood. The majority of customers (71%) say they are more inclined to buy from a firm that shows support for a cause they care about, according to a poll by the 2018 Cox Business Consumer Pulse on Small Businesses.
The power of listings
Another effective strategy for expanding your consumer base is to boost your visibility in local search engine results via optimised websites, social media accounts, and business listings.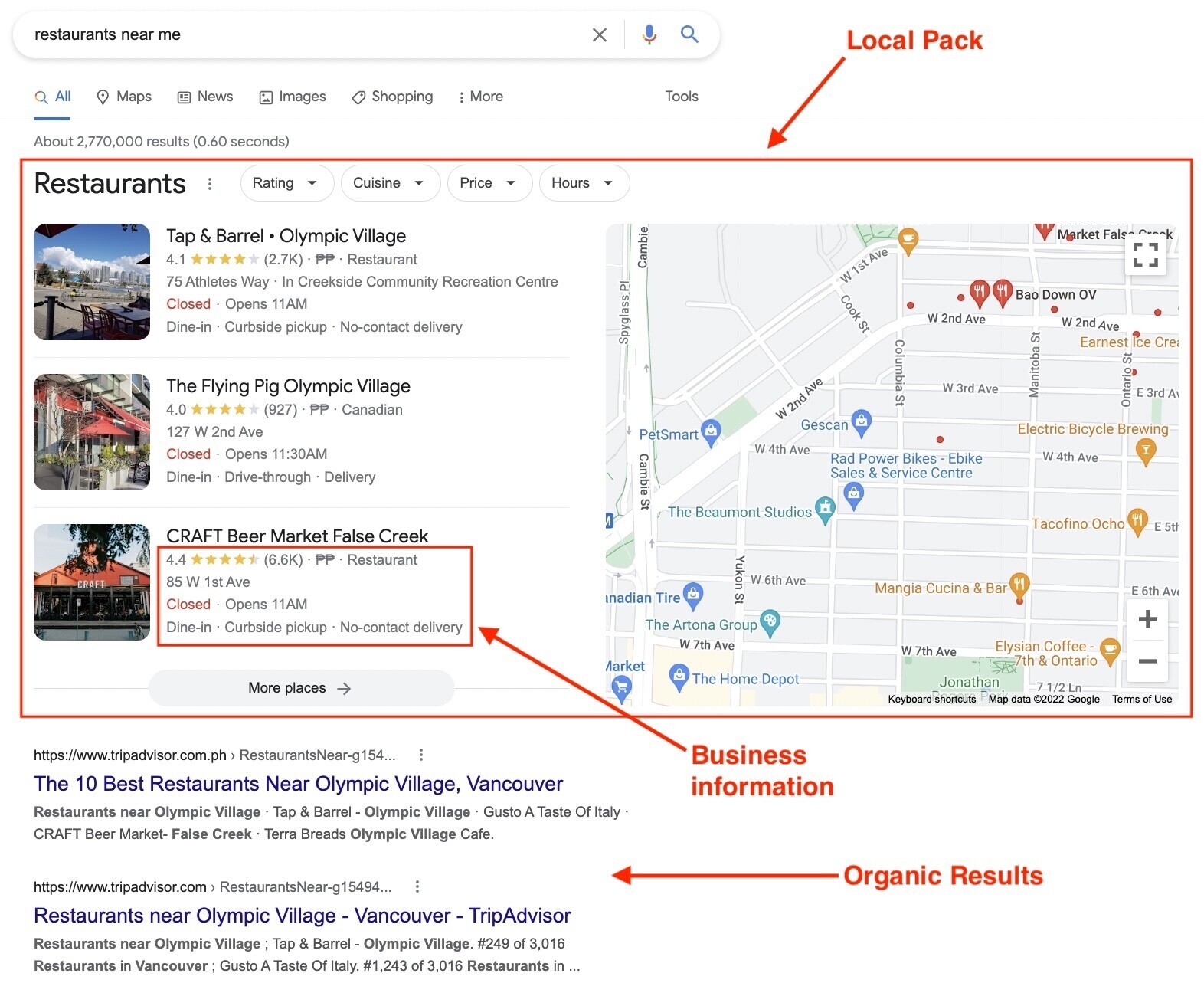 Include your physical address, phone number, and other pertinent information on your website, and list your business on directories like Google My Business, Yahoo Local, and Bing Places. In addition, make use of keywords that customers would use to find a company like yours online. HubSpot found that 72% of those who conducted a local search visited a business within five miles of their home.
Traditional advertising
Last but not least, don't overlook the value of tried-and-true advertising strategies. Even now, they can be useful, especially for startups and other small enterprises. Advertising materials such as pamphlets, brochures, and billboards may be quite effective for getting your message out to people in your immediate area. Using local advertising is a potent strategy for reaching local consumers. This tactic incorporates both geo-targeting (reaching people depending on where they are) and keyword-targeting (reaching them with material that is relevant to them). In addition, you may contact clients in a certain location, even if they don't use the internet. Thomas Smith laid the foundation for the theory of frequency in advertising and marketing.
It illustrates the potential need for a high number of advertisements before the ordinary customer will take notice, remember the message, be persuaded, and make a purchase. It goes like this:
A commercial's presence on your radar is so subtle during the first four exposures that you may not even remember them.
When you see something five times, you understand what it says.
It's only after the sixth or eighth time that it actually becomes annoying.
After the ninth time, you begin to wonder whether there could be any truth to it.
The tenth, eleventh, and twelfth times cause you to idly ponder the issue.
The product or service has value by the thirteenth time you see advertising for it. And by fourteen-nineteen, you've persuaded yourself to buy the item. When you've seen the same commercial for the 20th time, the item is yours!
All right! You are now ready to roll.