The pandemic that caused many people to turn to online commerce led more businesses in various sectors to do more digital marketing. This has been done everywhere and has helped companies to reach a wider audience. An increasing number of businesses have been affected by the growing importance of going digital since 2020, both in the B2B and B2C fields. The prevalence has reached a point that is critical for staying afloat in today's competitive marketplace, especially as personalization becomes more prevalent. Before the pandemic happened, many businesses in the B2B industry relied on trade show interactions and telemarketing calls to reach their customers. However, they then saw a sharp increase in B2C companies that have employed fresh digital strategies and have become more competitive with their own offerings. Hence, this is why the role of marketing play in the digital age was being questioned.
Businesses have been able to find new angles of their target markets by mining data in the past few years. Face-to-face commercial activities are gaining back traction, now that individuals are more prepared to cope with the post-pandemic era. Both digital and non-digital strategies are causing a shift in how companies reach their specific target market. Marketing is being streamlined and consumers are becoming more educated about what they should be looking for in a business they're interested in.
More Recognition of the Value of Marketing
The Internet has become an obsession for people all around the world. Whether they are young or old, it doesn't matter. The Internet has attracted the interest of billions of people in one way or another. In 2017, 2.48 billion people used social media platforms globally, according to Statista. Additionally, according to this website, 243.6 million Americans used the Internet in 2018 and 257.4 million are anticipated to do so in the next years. Marketing has always been essential to any company's success. In order to create more business and attract more clients, it is important to try your best to promote your products through advertising. Furthermore, marketing is even more crucial in the digital age because Internet searches are significantly more common than traditional media searches. They are looking for goods, services, and details about goods, services, and other things online.
The Modern Marketer by Salesforce
The Role of Marketing in the Digital Age
By targeting customers who are interested in your goods and services, digital marketing serves to increase your company's traffic, leads, and revenue. Web marketing is the process of promoting your business to potential leads and high-value customers online. Online marketing is essential to the expansion of your organisation. Given that there are more than 4.3 billion internet users, two billion of whom purchase online, there are numerous ways to connect with potential customers via online marketing.
When you invest in digital marketing, you'll see increased revenue for your company. It is a reliable source for communication and engagement with the target audience. These will help increase overall brand recognition and value. So how does the role of digital marketing affect a business?
1. You can get a strong ROI with digital marketing.
One of the digital marketing roles is to maximise the return on your marketing investments. Online marketing is quite affordable compared to traditional marketing and provides a strong return on investment (ROI). Internally managed digital marketing is more expensive in terms of time than money. You can run your own content marketing or social media marketing campaigns, but it will take a lot of work to develop, implement, track, and manage a successful campaign. Even if you spend on paid advertisements, the expenses are entirely under your control. You establish a budget that is practical for your company for PPC (pay-per-click) and social media advertising campaigns.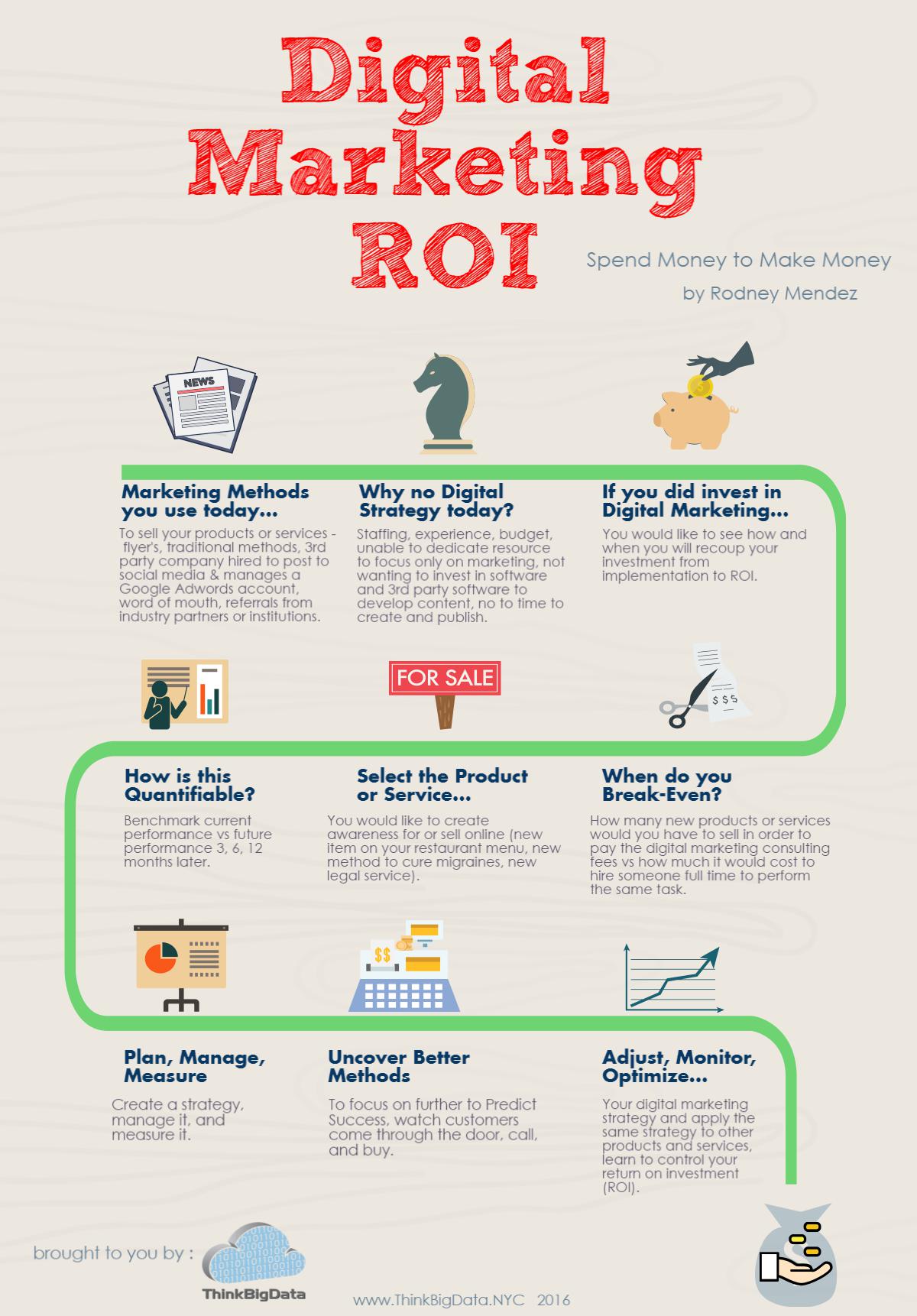 Photo by Think Big Data
It's crucial to understand that you get what you pay for, so you should create a budget that's appropriate for your business and sector. For your business, these digital marketing strategies offer a great return on investment (ROI). You can get a lot of money back by shifting your budget from traditional marketing to web marketing. One ringgit invested in email marketing, for example, has the potential to return 44 ringgit to your company. Digital marketing has a tremendous impact but it can be difficult to know where and how to invest your marketing budget. Luckily, with today's digital tools, you'll be able to reap the rewards of advertising campaigns that are both cost-effective and targeted.
2. Digital marketing levels the playing field.
The role of digital marketing helps small and midsize enterprises compete on an even playing field. Even if you have a lesser budget, it enables your organisation to compete with larger corporations as well as smaller businesses. For instance, to improve the visibility of their website in search engine results, many companies invest in search engine optimization (SEO). Both large and small businesses can use this strategy to draw in and connect with more worthwhile traffic. Search engine algorithms aren't purchasing ads to the top of the results. Instead, they are prioritizing producing results that are highly relevant to the user's search and often rely on natural language generation techniques.
You will most likely appear higher in the search results if your material is more significant than the content of a major organisation. Google doesn't spare a thought about how much money your company produces. Instead, it is concerned with giving users the most pertinent and beneficial results for their search. People wouldn't use Google if it didn't produce results like this. A similar method is used with Google Ads, the company's pay-per-click (PPC) advertising platform. You receive a spot for your ad in the Google search results when you run a PPC campaign. Because 41% of all clicks go to the top three paid ad positions, you want your ad to be there in the ideal scenario. Another situation where Google scores on relevancy are PPC ads. Your ad can outsmart more established rivals since it is more pertinent to the search query.
Infographic by Demand Sage
Your placement and the cost of each click are determined by your ad relevancy score and the bid amount. You can overrule a major firm with a low ad relevancy score and a high maximum bid if you have a high ad relevancy score and a low maximum bid. These jobs cannot be purchased by corporations. Everyone must instead create advertisements that connect with their audience. These are only two instances where you can see how the goal of digital marketing is to provide equal opportunity for all companies. Due to the fact that it enables you to compete with other businesses, it is a great investment for your business.
3. You can monitor the effectiveness of digital marketing.
Along the way, you'll learn that digital marketing also makes it simple for you to track the success of your campaigns as you consider the various roles of digital marketing. Business owners would love to know if a marketing or advertising campaign is producing results before it was launched. This is challenging with traditional marketing strategies since people can't tell if the efforts were successful in persuading the audience. It would take a lot of time to interview each customer that enters your store or contacts your business to find out how they learned about your business. You may track the effectiveness of your efforts by using digital marketing in real-time. Depending on the kind of campaign, there are many KPIs you can monitor.
Impressions, traffic, clicks, dwell time, and conversions are some fundamental metrics. You may calculate your ROI using these measures, which provide you with useful information about how well your campaign is working. The ability to manage important metrics and gather performance data in one location is made possible with the correct marketing tools. This is the most important function of digital marketing if you want to know how your campaigns are doing. You'll always be able to tell whether a campaign is helping your company to achieve its goals. It's an excellent feature because it enables your team to modify your campaign to produce better outcomes.
Conclusion-Think out of the box
Leaders in marketing must now employ digital tools to track consumer behaviour and foresee customer wants. It's just as risky to invest in technology that doesn't work as it is to make assumptions about your target audience. Your digital requirements will be evident if you have a good idea of your target audience. You start to select digital tools with remarkably fine detail. Modern marketing has never been more rewarding than when your interests and those of your customers coincide thanks to cutting-edge tools and methods.
Businesses should make the most of digital channels to reach the broadest possible audience since the digital age is here to stay. If they don't, they'll fall behind as their rivals advance. It is essential for businesses to utilise digital marketing because the majority of people use the internet to research information, pay bills, and even purchase various services and goods. Most traditional marketing techniques are remnants of the past.