Before I delve deeper into the subject of affiliate marketing, let me start with a brief overview. For those of you wondering what exactly affiliate marketing is, in a nutshell, affiliate marketing is a performance-based marketing strategy in which a company pays affiliates for each client acquired through the affiliate's own marketing initiatives. The business increases sales, and the affiliates profit by receiving a commission for each sale or lead they bring in. But let's step back and come back to the overview.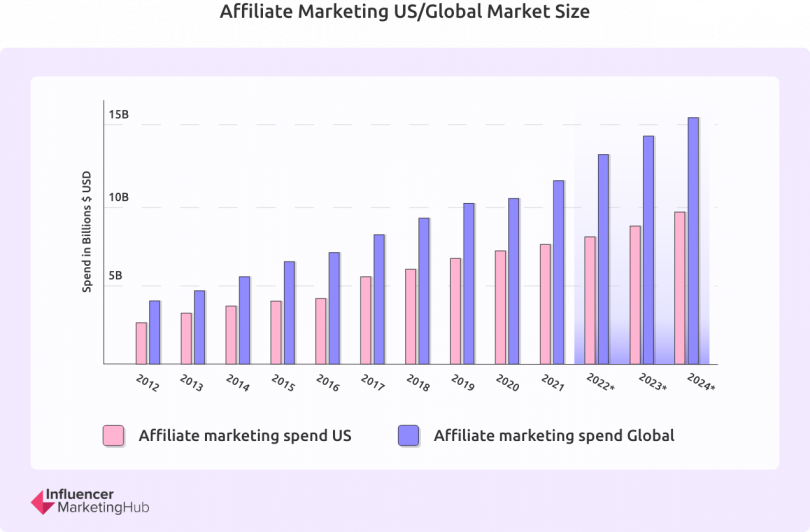 The fastest-growing area of online advertising is affiliate marketing. It continues to generate more money, but the opportunities are always precarious. More than $17 billion has been spent on the global market. For 20% of marketers, it is the most effective marketing channel, and for 31% of publishers, it is the main source of income. An astounding $8.2 billion is predicted to be spent on affiliate marketing in the United States by 2022. That's a sizeable amount of money, demonstrating how well-liked and successful this marketing tactic has become.
According to another study, 81% of advertisers and 84% of publishers use affiliate marketing, while another study predicts that global spending on affiliate marketing is anticipated to increase to $13 billion by 2022 and to $15.7 billion by 2024. Now that I have your attention, you might be wondering how does it actually function. It's fairly easy. In this article, we'll go over what affiliate marketing is and how it operates, and if you are willing to start your own business, we'll discuss the best practises to keep in mind.
What is affiliate marketing?
Various types of affiliate marketing
The 3 step guide to kickstart
What is affiliate marketing?
As mentioned at the beginning, it is a performance based marketing model. Let me elaborate on how it works.
Affiliate marketing is a way for people to make money from their skills without actually being hired by someone else. Because you set your own hours, decide how much work you want to do each day, and choose which tasks to concentrate on, it's essentially like having your own boss.
When an affiliate marketer works with a company, the company gives each affiliate a special affiliate link to use in their marketing campaigns. The affiliates then promote the company's products or services, using a special link to track leads and sales. Many people promote other people's products as affiliates in exchange for a meagre commission on each sale. On many of the websites you visit, you might have noticed headings with "affiliate link" or "sponsored post" labels. An affiliate marketing programme can be organised in a number of different ways. Affiliates are compensated for each sale, action, or visitor. Commissions or discounts on the affiliate's own products are the two ways that payouts are made.
What advantages does affiliate marketing offer, then? It's a great way for businesses to attract new clients and increase revenue. In fact, affiliates actually account for 15% of all online sales for retailers. It's a fantastic way for affiliates to generate passive income. According to a survey by Affise, 25% of affiliates make between $81,000 and $200,000 per year. It's crucial to remember that this is not a get-rich-quick scheme, though. It requires perseverance, commitment, and the capacity to sell the goods or services to prospective clients.
Types of affiliate marketing
But did you know that there are actually several different types of affiliate marketing? Here are a few examples:
Pay-per-sale: In this type of affiliate marketing, which is the most popular, affiliates are paid a commission for each sale they bring in for the company.
Pay-per-click: Each time a customer clicks on an affiliate link in this type of affiliate marketing, the affiliate receives a commission.
Pay-per-lead: In this kind of affiliate marketing, affiliates get paid a commission for every lead they bring in from sign-ups or form submissions for the company.
Cost-per-action: Similar to pay-per-lead affiliate marketing, but with payment for specific actions like purchases or registrations.
Subscription-based affiliate marketing: Affiliates receive a commission for each new subscriber they bring to a company in this type of affiliate marketing.
Two-tier affiliate marketing: In this kind of affiliate marketing, affiliates enlist the help of other affiliates to promote a good or service in exchange for a cut of the profits.
Product review affiliate marketing: Affiliates engage in this form of affiliate marketing by writing product reviews and including an affiliate link.
The 3 step guide to kickstart
One of the most lucrative methods of earning money online is affiliate marketing. You could make a lot of money by selling a product you're passionate about. Here are the three crucial steps you must follow in order to launch an affiliate marketing business.
1. Pick a specialty in which you have a lot of interest. Because it enables you to concentrate on a particular target market and position yourself as an authority in that field, picking a niche for your affiliate business is crucial. Because of this, it may be easier to find relevant products to advertise and attract the right customers to your website.

Take, for instance, the case when your focus is on health and wellbeing. You may have trouble standing out in a crowded industry and finding specialised items in the wide niche of "health and wellness." Narrowing your emphasis to a subset of the industry, like "vegan skincare," can certainly nudge you in the right direction. It can help you identify the right goods to market and attract more customers.

To promote what you're selling and keep up your motivation, you must be passionate about it. It's crucial that your niche is marketable. This means that you can locate customers who are seeking out similar goods or services. It is safe to choose a field where there are already established major players if you are just getting started. What will set you apart from the competition is your original idea.
2. Make a product that you believe customers will like and buy. The success of your product will depend on what you believe consumers will like and purchase. It's critical to have a clear understanding of the needs and desires of your target market.

Let's say the item you're trying to sell is a vegan cookbook. If you believe that your readers will enjoy the cookbook and will find it useful, you are more likely to promote it effectively and generate sales. On the other hand, if you promote a product that you don't believe in or that you think your readers won't be interested in, it's less likely to be successful. Think about that. Utilise market research to identify what your target audience wants and then sell that!
3. Create a website and a logo for your business. Have you thought about creating a website and logo for your affiliate marketing business? If you haven't already, you must now! A website and logo can really help to establish your brand and professionalism. HubSpot found that 97% of consumers purchase decisions are influenced by their website. 94% of respondents in another survey reported that they distrusted a website owing to site's design elements. Building a well designed website is one of the first steps you should take when starting an affiliate marketing business. Having a professional website is essential because it will draw in potential clients and leads and help establish your brand.
As for a logo, it can help create a memorable impression with your audience and make it easier for them to recognise your brand. A well-designed logo can also help to establish trust and credibility with your audience, which is important for building a successful business. Crafting a unique and memorable identity for your company helps you stand out in the crowd. A website, name, logo, slogan, and packaging all contribute to the brand's identity. It's what distinguishes your company from the competition and builds a connection with your ideal customers. You can also read Marketing In Asia (M.I.A.) market research report on best brand-building practises to learn about some kickass branding techniques.
Conclusion
Affiliate marketing is a potent and successful marketing technique that has the potential to help affiliates as well as businesses. In order to make sure that affiliates are promoting goods or services in an honest and responsible manner, it is crucial to carefully choose and manage them. However, before you go all out, remember to brainstorm to pick a niche, research to understand the demand, and finally build trust with the help of a logo and well-designed website.