In a dazzling global initiative, Spotify and breakthrough musical quintet NewJeans join forces to mark the debut of NewJeans' eagerly awaited second EP, "Get Up". Since their dramatic entrance into the music scene last July, the formidable five – MINJI, HANNI, DANIELLE, HAERIN, and HYEIN – have taken the world by storm, captivating 'Bunnies' (NewJeans' official fandom name) and accumulating over 22 million monthly listeners on Spotify. The EP 'Get Up', launched on July 21, has already raked in over 165 million Spotify streams, showcasing their undeniable influence in the music industry.
To heighten the thrill around this launch, Spotify introduces a variety of fan-centric initiatives developed in tandem with NewJeans, enabling listeners to delve deeper into the world of NewJeans' music through exclusive content and immersive pop-ups.
Your NewJeans Hero: A Personalised Musical Journey with the Band
One of the campaign's standout features is the Bunnyland microsite – a novel digital experience allowing Spotify users globally to identify their NewJeans hero based on their music preferences. Users can find a match with either MINJI, HANNI, DANIELLE, HAERIN, or HYEIN and listen to a Spotify playlist curated by their chosen hero, and even share their results on social media.
Also available are curated playlists from all NewJeans members, offering fans a chance to explore more of the group's individual musical influences. In addition, Spotify rolls out bonus content that includes an exclusive interview with NewJeans and behind-the-scenes content available on Spotify's K-Pop ON! YouTube and video podcast channels.
Bunnyland: An Alluring Immersion into NewJeans' Dream World
On July 28, Spotify and NewJeans unveiled the immersive Bunnyland experience in Seoul and Jakarta. This 10-day, vacation-themed pop-up recreates NewJeans' fantasy world, inviting fans to explore the retro gaming room with Spotibunini arcade games, chill at the Playlist Station, and glimpse the "Get Up" concept at Bunny Beach.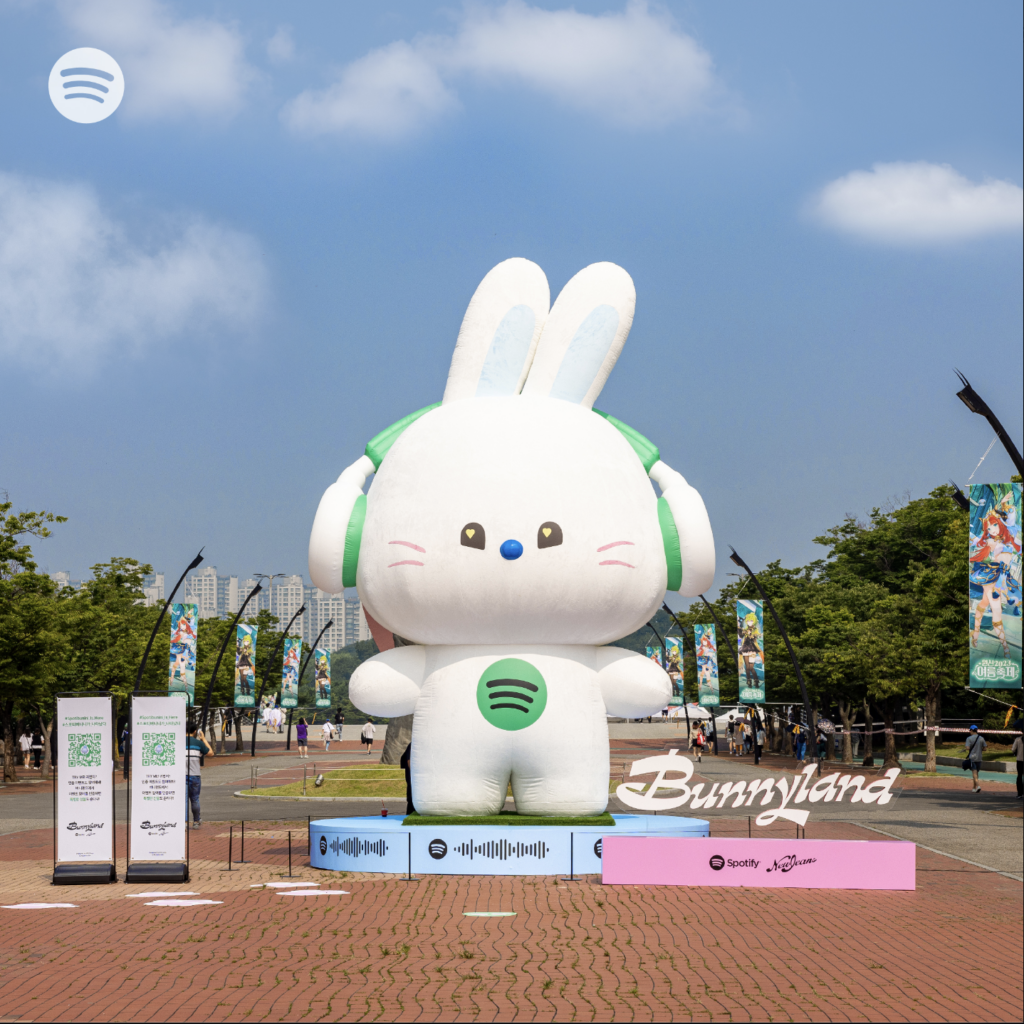 Special gifts from Spotify and NewJeans await fans at these events, subject to stock availability and applicable terms and conditions. Bunnyland will open its gates from July 28 to August 6 at Lotte Shopping Avenue, Jakarta, and Nakwon Musical Instrument Arcade, Seoul, and will feature at Lollapalooza in Chicago on August 3, where NewJeans will perform for the first time in the US.
The Launch of Spotibunini: NewJeans' Adorable Mascot
To highlight the launch of 'Get Up', Spotify has introduced giant Spotibuninis in prominent Asian cities. These captivating installations, bearing NewJeans' adorable new bunny character wearing Spotify headphones, have appeared in Tokyo's Shibuya and can now be found in bustling malls in Jakarta and Manila, as well as Jamsil Olympic Park and IFC Mall in Seoul.
Bridging NewJeans and Fans Globally Through Music
Spotify's unwavering support for NewJeans has been instrumental in their skyrocketing success. As an industry leader in music and cultural trends, Spotify nurtures emerging talent and offers them opportunities to connect with their international audience at a deeper level.
We're thrilled to partner with Spotify to present our fans with a diverse range of experiences that
bring our group's unique colors to life. We've prepared an exciting campaign to connect with
listeners worldwide, and we look forward to sharing these moments with our dedicated Bunnies
and new fans.

NewJeans
Spotify has previously highlighted NewJeans on their flagship global genre playlist, K-Pop ON! with over 5 million followers, and celebrated their first comeback single album, 'OMG', with exclusive content. In January 2023, NewJeans was honoured as Spotify's EQUAL Ambassador, giving their music additional exposure through the EQUAL Global playlist, a program committed to amplifying women creators.