2021 was a memorable year for ROBLOX. According to our analysis, the world-building game ended the year as the mobile game market's top title by consumer spend, #3 by downloads and its #2 by monthly active users (second only to PUBG Mobile).
It was a remarkable 12 months. And in February 2022, the company itself revealed its latest set of key metrics, showing both strong growths in 2021and forecasting double-digit top-line growth in 2022. Our own estimates add even more gloss to ROBLOX's performance since it was first released on mobile in May 2011. It's currently available in over 174 markets around the world and has been downloaded around 665 million times. 
And gamers all over the world love ROBLOX. Its top markets by downloads range from the United States, Brazil and Mexico to Russia and Indonesia. The title also stands out in terms of spend. As of February 2022, it was the #1 game by consumer spend in 15 markets, and ranked in the top 5 in 81 markets.
However, there is a lot more to say about this era-defining title than just the headline numbers. At data.ai, we can go deeper. Why? Because our data platform anonymizes and aggregates data from over 1 million apps and blends this with consumer panel insights and ad network metrics.
So we've been interrogating the data for surprising insights about ROBLOX, and here is what we found.
ROBLOX Skews Female but Males are Catching Up
data.ai's mobile data shows that female gamers love ROBLOX. Our data shows among markets analyzed (United Kingdom, Japan, United States, Germany, France and South Korea), the average share of the female audience for ROBLOX users is nearly 60%, with the highest share in the United Kingdom at 66%. In fact compared to 3 years ago, the total number of female users among these markets have more than doubled. At the same time, male audiences are also playing the game at an even faster rate — narrowing the gender divide.
It is important to note that our analysis is limited to males and females only and is not representative of all gender identities.
Looking deeper into the demographic tendencies across top Games by consumer spend in select markets revealed the growing prominence of games that lean towards female audiences. For example, among the top 10 Games in the United States in February 2022, 6 of them skew towards female audiences, meaning females are more likely than males to play these games. In the chart below, ROBLOX users were 10% more likely to be females than males in the US, whereas users of Genshin Impact and Royal Match were as high as 30% and 40% more likely to be female.
ROBLOX's focus on creating endless possibilities for social interaction and avatar customization has helped it gained ground, especially as demand for online gaming exploded amidst pandemic restrictions. We see some mobile ads exaggerating the game's 'party with friends' experiences to appeal to their primary target users.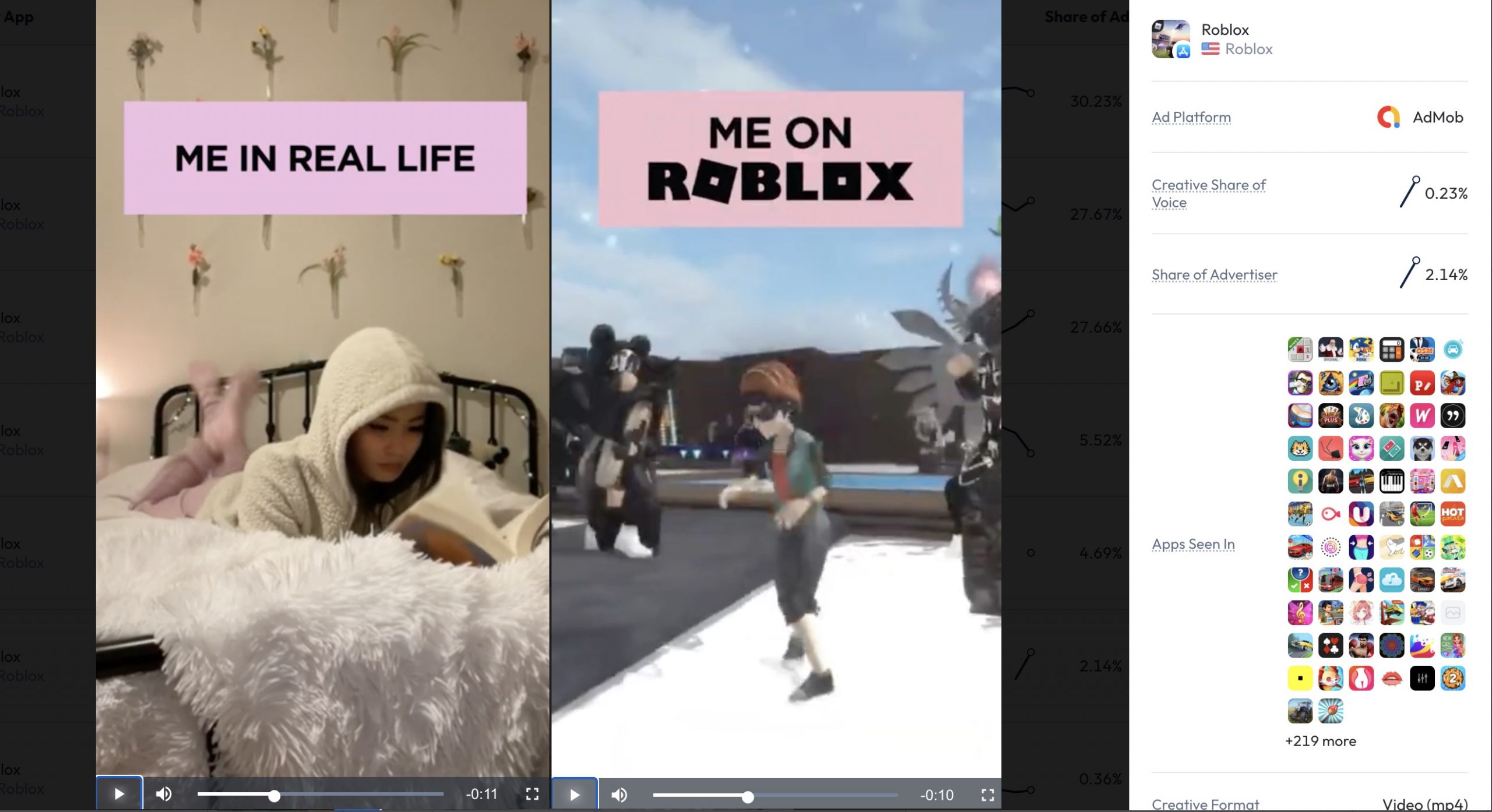 One of many of ROBLOXs creatives showing the immense possibilities of self-representation and online interaction geared towards female audiences. 
Source: data.ai Intelligence, Creatives Gallery for United Kingdom, iPhone, Feb 2022
ROBLOX as a Platform Might Be the Biggest Sleeper Hit Mobile App of All Time
The 'hockey stick' of ROBLOX's rise is exceptional in a market that is full of short term successes. It's now 11 years since it was launched on mobile, yet it didn't manage to enter the global top 20 by yearly spend chart for the first 10 years of existence.
ROBLOX ended 2019 at #16, before becoming #1 by global Game consumer spend in 2021. In fact, more than 77% of ROBLOX's spend was generated in the last two years. Given that its lifetime consumer spend on mobile is around $4.5 billion, that's nearly $3.5 billion earned in 24 months.
ROBLOX has Transformed the Creative Sandbox Sub-genre
Without doubt, ROBLOX has put the Creative Sandbox sub-genre at the heart of the mobile gaming space. Creative Sandbox titles, which give players tools to create assets and share them with other players, used to be pretty niche. Minecraft changed this. Then ROBLOX took things to another level.
Our numbers show the following headline numbers 
Creative Sandbox downloads in 2021 went up 17.5% from 936.1 million the year prior.

Creative Sandbox consumer spend in 2021 went up 51.0% from $1.4 billion in 2020.

The subgenre was ranked #10 among all games subgenres by consumer spend, amounting to $2.1 billion or 2.5% of the market in 2021.
In February, ROBLOX Was a Featured iOS App Store Game for More than a Week
When a title is listed on the primary Top Featured (Games) collection tab on iOS App Store, downloads tend to follow. ROBLOX is a regular fixture on these charts. In February 2022, it was featured in at least 65 markets, and its average duration on the list was 7.62 days, although topping 15 days in many Latin American markets.
Being featured on the App Store is one of the most effective ways of lowering acquisition costs, and with exposure to more relevant users, comes potential for increased revenue. We have observed that during the month of February 2022, ROBLOX was able to enter the top 5 games by iPhone downloads in 14 markets and among the top 5 for iPhone consumer spend in 35 out of the 65 markets where the game was featured within the primary banner section of the App Store.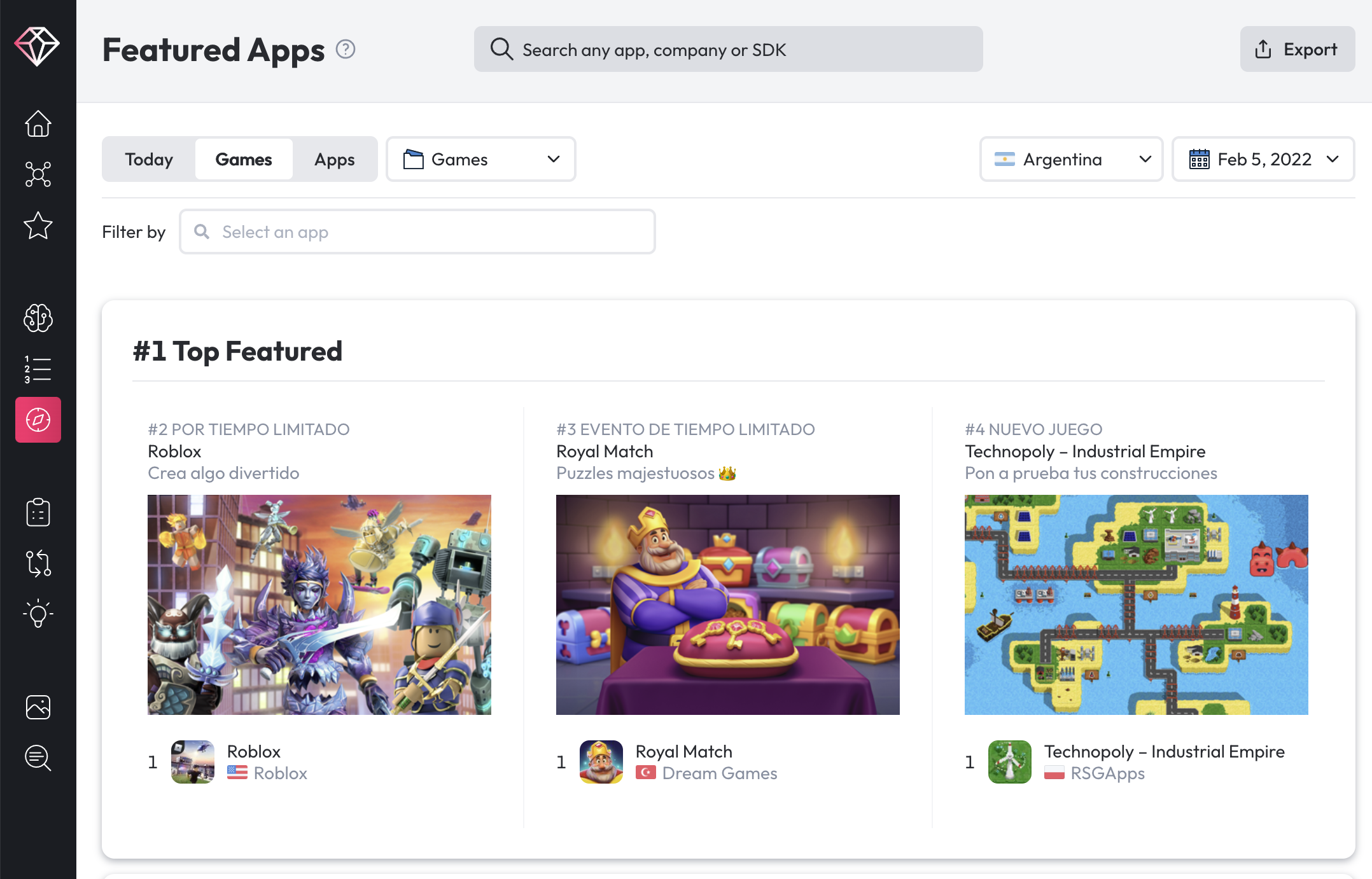 In Argentina, ROBLOX was featured among the Top Featured Collections for more than two weeks in February 2022, and managed to hit #1 Game by iPhone Consumer spend for the month.
Looking for more mobile gaming insights? Sign up here to claim a copy of data.ai's industry-leading State of Mobile Gaming 2022 report.