Are you curious about the British education system and its impact on the country's history and development? While this system has been around for centuries, it's been receiving a lot of criticism in recent years. Many argue that it's too rigid and inflexible, with a heavy focus on traditional subjects and rote learning that fails to prepare students for the modern world. And sadly, the criticism is true.
Imagine, nothing changed in our classroom for over a century, that's a shame! What's surprising is, though obsolete, the UK still ranks 7th in the world on the list of the best education systems in the world.
In this article, we'll delve deep into the British education system, examining its structure, strengths, and weaknesses. We'll explore some of the most common criticisms and discuss the need for change in the face of the demands of the digital age, the labor market, and the COVID-19 pandemic.
Along the way, we'll also gather insights from influential figures in the education sector and beyond and hear from successful individuals who have taken unconventional paths to education.
Overview of the British Education System
It's worth keeping in mind that systems that have been deeply rooted in society take time to change. A prime example of this is the education system, which was designed during the industrial age with the primary goal of producing factory workers.
Even today, we see remnants of this industrial mentality in schools, with mass production and control still being prioritised over individualised learning experiences.
Dating back to the late 3rd century, lies the foundation of the first monastic schools that marked the start of what would become the British education system. Fast forward to the 20th century, and the system evolved dramatically, adapting to the changing needs of society while maintaining a strong global reputation. Its longevity is impressive, with the Sorbonne University in Paris founded in 1150, the University of Oxford established in ~1096, and Cambridge University established in 1209. However, things took a U-turn in the 21st century.
It's interesting to note that the education system's massification is a recent phenomenon, starting in the 19th century with the introduction of state-funded schools and continuing with the creation of the National Curriculum in 1988. The current education system's roots lie in teaching grammar, logic, and rhetoric to promote literacy and religious values. Without internet access, this was the best way to enforce knowledge and prepare young people for university. However, as time passed and knowledge grew, the education system evolved to incorporate more scientific research and reasoning. As generations grew more knowledgeable and literate, the influence of religion waned, and scientific research and reasoning flourished. With the internet reaching every household, there was a shift that sparked rapid technological advancements, forever transforming the world we live in today, but unfortunately, the education system failed to keep up! Despite its successes, the British education system faces a time of change. The demands of the digital age, the changes in the labor market, and the COVID-19 pandemic have highlighted the need for a more adaptable and inclusive education system.
Criticisms of the British Education System
Picture this: a centuries-old education system, highly regarded worldwide but grappling with modern-day challenges. That's the current education system for you! Let's dive into the depths:
First off, the lack of diversity and inclusivity is a glaring issue. Only a small percentage of students at top UK universities come from disadvantaged backgrounds. According to a study by Pearson, four out of five UK teachers think that more can be done to celebrate different cultures, people, and experiences in UK education. According to a survey, only 36% of parents in the UK agree that the education offered in schools today is inclusive of all students. The lack of diversity in further education is also highlighted by a report by the Chartered Management Institute, which found that the proportion of Black, Asian, and ethnically diverse college leaders decreased from 13% in 2017 to roughly 5% or 6% in 2018.
Moreover, the system's focus on traditional subjects and rote learning has come under scrutiny. While mathematics and science are crucial, so too are creativity, critical thinking, and problem-solving. In fact, the World Economic Forum found that almost all jobs will require complex problem-solving skills by 2025. So, it's high time we rethink our approach!
Another sticking point is the British education system's over-reliance on exams and standardised testing. While they can offer valuable insights, these tests also contribute to increased stress and anxiety, a narrow curriculum, and a lack of emphasis on real-world skills. When the intelligence of different students is measured against a single yardstick that is incapable of adjusting its parameters depending on the strengths and weaknesses of different students, it leads to lower self-esteem and a lack of confidence in the "low performers".
Lastly, there's a notable lack of vocational education opportunities. With vocational skills in high demand, it's crucial to reevaluate the system's priorities and provide more pathways for success. The aim of education should be to impart life skills, which unfortunately one learns in on-the-job training, if one lands a job! Only 10% of employees in the survey said that the skills they acquired in their schools and universities were actually put to use in their jobs. 25% said that it was their job training that helped them acquire skills that were actually needed to survive the fight.
As the digital age progresses, the obsolescence of the British education system has become more evident. The rise of technology demands new skills like digital literacy, critical thinking, and creativity, but the current system struggles to prepare students for these challenges, leading to a skills gap.
To top it off, the COVID-19 pandemic has further exposed the need for a flexible and adaptable education system. The abrupt shift to remote learning revealed the limitations of traditional classroom-based models and the digital divide, where disadvantaged students were left behind due to insufficient access to technology and resources.
So, as the internet continues to transform the way we learn and work, it's high time we reconsider the very foundations of the British education system and adapt it to the demands of the 21st century. After all, the future of education lies in personalisation, digitalisation, and lifelong learning!
Age-old traditions
We need to stop here and ask ourselves: Are our education systems training students to be compliant and conformist?
It's clear that modern society values creativity, critical thinking skills, and the ability to collaborate with others. However, our current education system often falls short in developing these skills, with its lack of autonomy and control limiting students' potential.
I have already stressed the importance of complex problem-solving skills. Yet, the emphasis on memorisation and rote learning in our current education system limits students' ability to think critically and creatively.
The system defines a generic set of knowledge that all children must know, and exams are the only thing that is valued and measured. No, no. Let me correct myself here, scores are the only thing that is valued. If you are a top scorer with absolutely no common sense or will to learn and educate yourself, you are still regarded as 'the best' and vice versa, you stand no chance in our education system. The hypocrisy is so deeply rooted in every person who has been part of this education system that parents and teachers are both blinded by the outcome of this mad rat race. No one pauses, even for a second, to reflect on the path taken. The constant hammering of subjects, rattaafication (mugging up) and perfect scores has made Jack a dull boy. As a result, there's little room for passions and interests in the current education system, which undermines children's natural curiosity and love for learning. The current grading system is viewed as a poor communicator of student learning and does not provide meaningful feedback for improvement or growth.
Furthermore, the current system is demotivating and boring for children, leading to decreased interest and engagement in the learning process. The segregation of students into different sections, solely on the basis of merit and differentiating the amenities and opportunities provided to them based on their sections leaves quite an impression on those young minds. Forcing them to believe, that they are not good enough.
The current educational system's lack of autonomy, according to a study by the University of Rochester, makes the curriculum boring. Autonomy is incredibly important for children, and without it, they're less likely to be interested in what they're learning. Have you ever observed how toddlers learn to eat? or walk? I am sure none of us remembers the days when we were toddlers, but observe a baby if you get a chance.
A child learns to eat when they are left by themselves. When you believe in them and give them autonomy and space, that is when they learn how to hold a spoon or how to walk without support. Sure, there are spills at times, and they fall down over and over again, but they learn.
Creativity is just as important as literacy in education and should be treated with equal status. Children are born with an innate ability to express themselves through art, music, and other creative outlets, but unfortunately, we often lose this skill as we grow older and become more educated. The current education system has a hierarchy that prioritises math and science over art and music, which can lead to a lack of creativity in students. Mistakes are a necessary part of the learning process and should not be stigmatised or punished. As we grow older, we forget that learning is a process that comes as a result of those initial failures. That is the basic nature of learning. It requires you to make mistakes, but as we grow older, we leave no room for error, so we never actually learn!
The education system was initially designed to meet the needs of industrialization, where conformity was valued over individualism. However, in the 21st century, the focus should be on increasing choice and providing individualised support to help children flourish in their areas of interest.
Finland is already considering abandoning teaching by subject and adopting teaching by phenomenon. Students at the University College of London can earn a degree in Arts and Sciences, which is an interdisciplinary major. What? Arts and science together? yess. Interdisciplinary majors are becoming more popular as traditional subjects are phased out.
Standardised education may have once been the solution, but to say that it is no longer relevant is putting it mildly, and it is only a band-aid fix for a broken system. According to Daniel Pink (A Whole New Mind, 2005), the results of those tests are in stark contrast to the skills we currently require. These abilities include design, story, symphony, empathy, play, and meaning, for instance.
What is needed?
Eliminating letter grades is foremost to reduce pressure and refocus students' and professors' energies on learning for the sake of learning. Instead of passive learning that emphasises memorisation and regurgitation of facts, the focus should be on active learning that encourages students to engage with the material and apply it in meaningful ways. This will be achieved by replacing the teach-and-abandon methods of instruction with more cohesive and integrated approaches to presentation.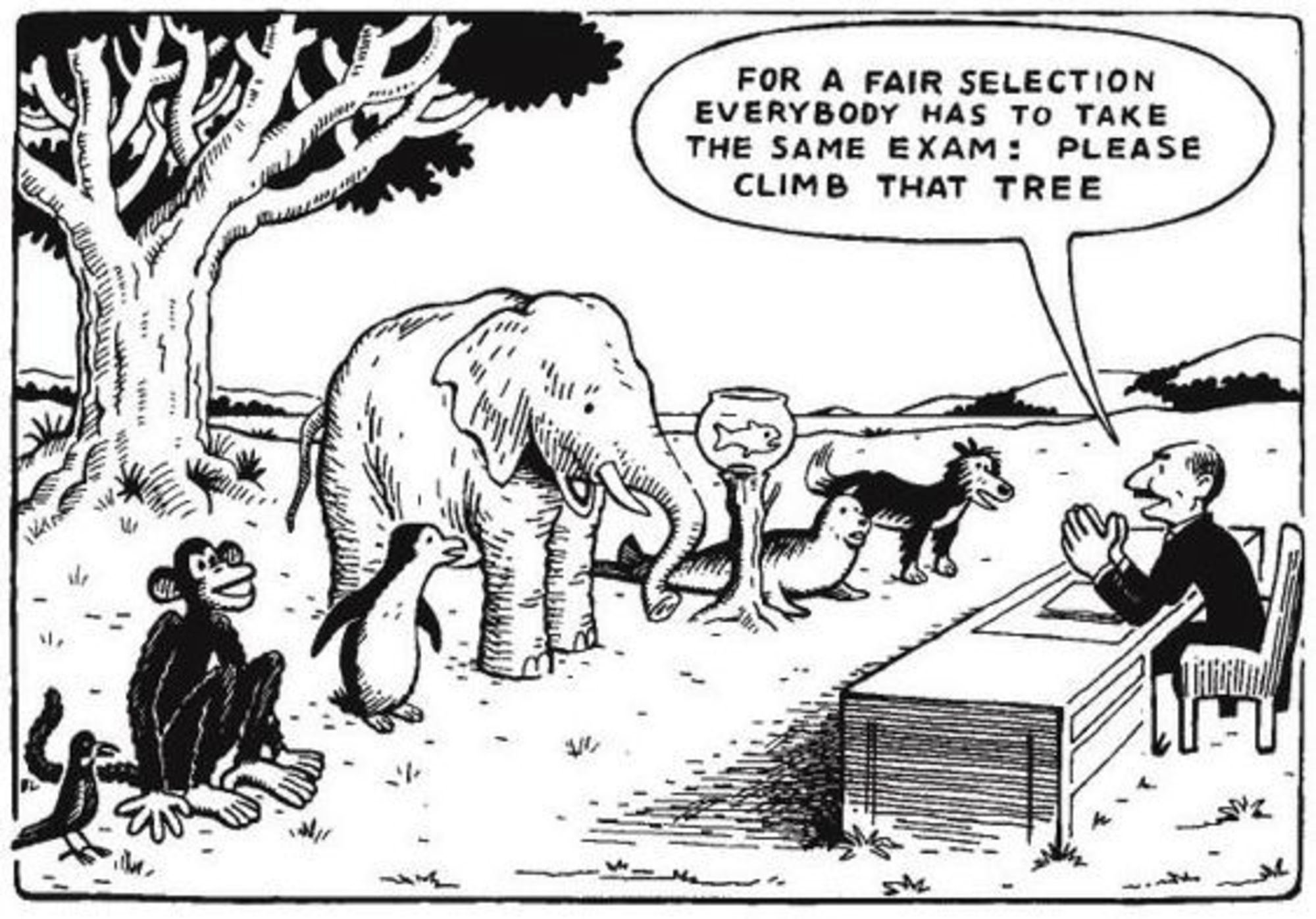 Moreover, we need to move away from standardised tests as the sole measure of success. The outcomes of these tests measure only a small part of what we want our kids to learn, and by focusing on them, we're narrowing the curriculum. In the global world today, it's easy to outsource jobs to someone who is willing to do the same job just as fast for less money. Therefore, we need creative people who can think differently. We should all remember this quote by Andrea Schleicher by heart.
Schools have to prepare students for jobs that have not yet been created, technologies that have not yet been invented and problems that we don't know will arise.

Andrea Schleicher
To achieve this, the education system must focus on learning as a social and collaborative endeavour, emphasising communication, collaboration, and teamwork as critical skills for success in the 21st century. For instance, assigning homework for the sake of it is of no use at all. The focus should be on quality over quantity, and homework should be designed to reinforce concepts learned in class, promote self-reflection and self-directed learning, and encourage collaboration and creativity.
Traditional libraries that only contain books and chess tables are becoming obsolete. I had the chance to live in Helsinki, the Finnish capital, for a year. Therefore, having experienced the essence of their library, I can safely say, that our school libraries in India are dead in spirit.
A 21st-century library should be a place where students and staff can come in to relax, read, get advice, access powerful devices, and learn new skills. All of which were available even in the Finnish community libraries. Just imagine the ones in their educational institutions. When I was in school, I used to hate those boring library periods. The lighting of the room, the poorly decorated vicinity, and obsolete, torn books would repulse me instead. I could never imagine a library could be such a lively and energetic place that offers so much more than core academics. This 21st-century learning space should give people an equal chance to use these devices and access information.
There is also a pressing need to change the way our classrooms are structured and function. Instead of grouping students based on their birth year, a more holistic approach is needed. One of the major limitations of the current education system is that it doesn't consider the differences in how we learn. Some students are fast learners, some are good at math and science; some are good at arts and commerce, some are good at academics; and some are good at sport and music. There is a need for a personalised curriculum rather than a generalised one so that the students who are weak in language can be brought to par with those who are good at it. Similarly, for other subjects, we need to think creatively and come up with more out of the box and sustainable solutions.
But what about the skills that students will need in the future? According to Denning and Brown, "The half-life of a learned skill is 5-years" – this means that much of what you learned 10 years ago is obsolete and half of what you learned 5 years ago is irrelevant. With the world becoming more digitised, different skills are needed, particularly human skills such as collaboration, negotiation, and adapting to change.
Also read: With Adversity Comes Opportunity
So what's the solution? Apprenticeships and workplace programmes could be a better option for students interested in tech-based careers. They are more immediate, practical, and relevant. In fact, they are the perfect environment to, as Sugata Mitra said, "let learning happen" with colleagues of all ages and levels of experience. The path of collaborative learning is what we should be eyeing.
We're moving into an era where unlearning is as important as learning. Coming back to the psychology of a toddler, being playful lies at the very heart of learning, in order for us to build a new mindset. The imagined world connects kids in the heart of the deep play. We need to expand the notion of literacy to include visual, musical, procedural, and cinematic fields. The focus should be on developing fully rounded young people with confidence and self-esteem, rather than just teaching them to pass exams. And we need to start right from the beginning because our brain's capacity to adapt decreases with age.
Afterword
Engagement is the most important factor in education, not grades, test scores, or graduation rates. Sadly, the current education system is failing badly at it! The current education system is outdated and fails to meet the needs of students. The Mastery Transcript Consortium is working on a better way to measure learning, motivation, and engagement through a new transcript model.
It's time to learn from the best. The Finnish education system has a philosophy-based approach to education, with few standardised tests and a focus on individualised learning. Teachers are heavily involved in the Finnish education system, with a focus on collaboration and group work. The system values equity and inclusivity, with support provided for students with diverse needs. Maybe if we had still been in the Gurukul system, we would have been teaching the West! The Gurukul system emphasised experiential learning and a holistic approach to education that includes physical education and the arts.
Degrees are becoming less valuable due to the explosion of population and an oversupply of degree holders. Intelligence is not just about having ideas, but also about the interaction of different things. Education should prepare students for the unpredictable future, where skills like collaboration, creativity, and adaptability are becoming increasingly important. The education system is the same everywhere, with a focus on academics and little attention paid to the body or physical education. However, there is a growing movement towards incorporating physical activity and healthy lifestyles into the education system to ensure the overall well-being of students.
Also read: Bollywood's Reality Check: Regional Cinema Takes Center Stage
The current education system is like a one-size-fits-all mould that doesn't take into account your unique interests and strengths. The truth is, each child is unique and different in their own way, but the current education system doesn't always help them find and develop their passions. In fact, the education system often fails to address the most important questions in a child's life, such as "Who am I?" and "What do I want to do with my life?" Instead, it places a heavy emphasis on exams and standardized testing, leaving little room for creativity, exploration, and self-discovery.
The education system needs to evolve and adapt to meet the changing needs of students in the modern world. Creativity, engagement, and innovation should be given equal status to academics, and alternative education models and partnerships can help to create positive change. The Finnish education system provides an example of a successful philosophy-based approach that values equity, inclusivity, and creativity, and the ancient Gurukul system provides a promising model for holistic education.