At Marketing In Asia (M.I.A), we had the privilege of delving deep into the world of Asahi Super Dry, the iconic Japanese beer brand. Through an in-depth Q&A, we have gathered firsthand insights into the company's core strategies, growth plans, and brand experiences. Join us on this journey as we reveal how Asahi Super Dry successfully strikes a harmonious balance between tradition and modernity.
Blending Modern Japan with Time-Honored Brewing Processes
At the heart of Asahi Super Dry lies a narrative deeply rooted in tradition yet constantly evolving with the modern world. It's a tale of two worlds seamlessly intertwined, highlighting the magic of Asahi's brewing prowess.
The Inspiration and Evolution
Deriving its inspiration from the intricacies of dry sake, Asahi Super Dry challenged the status quo by introducing the world's first super dry beer. This was not just a shift in flavor but a revolution in beer craftsmanship. "For the first time since its launch in 1987, the company is enriching the unique recipe and packaging," which piques one's curiosity about the evolutionary journey the brand has embarked on.
Reimagining the Brew
The heart of this beer lies in its unique brewing process. The introduction of a new hop treatment process gifts the beer its delicate hop aroma, a testament to the continuous innovations Asahi embeds into its brewing. But it's not just about the hops; the yeast control technology underscores a masterstroke in brewing. With each sip, one is met with a fermentation-derived aroma, ensuring that the delightful sensation peaks quickly and lingers just long enough to tantalize the taste buds.
The Brand's Identity Metamorphosis
In juxtaposition to the tangible changes in the beer's taste and aroma lies the intangible evolution of its brand identity. Every element of Asahi Super Dry is meticulously curated to "inspire progression, fueled by the unexpected vibrancy of Modern Japan." The transition isn't subtle; it's a bold move. The introduction of its new premium and tactile silver brand world isn't just a color choice. It's an ode to Super Dry's iconic past, now enriched with delicate design adjustments. This design philosophy orbits around two contrasting yet harmonious silvers – a brilliant metallic sheen juxtaposed with a deep oxidized matte. This duality doesn't just resonate with the brand's ethos but encapsulates the Japanese sense of beauty: where contrasts harmonize and complement in an enigmatic dance.
The Alluring Experiences of Super Dry Museum and Ibaraki Brewery
Visitors to the Super Dry Museum and Ibaraki Brewery can anticipate an unexpected journey, understanding Asahi Super Dry's functional taste benefits. The hands-on museum, Super Dry Hall, and unique features like the "Super Dry 318 Dive" promise an engaging and educational experience. As we discovered, media and trade guests have particularly praised the interactive tours, multimedia presentations, and masterclasses.
Expanding Global Presence through City Football Group Partnership
The world of football is a magnetic force that captures millions, creating ripples of influence that extend far beyond the playing field. Recognizing this power, Asahi Super Dry embarked on an ambitious partnership with the renowned City Football Group (CFG). But what does a Japanese beer brand and a global football entity have in common? The answer lies in the mutual pursuit of excellence, innovation, and global reach.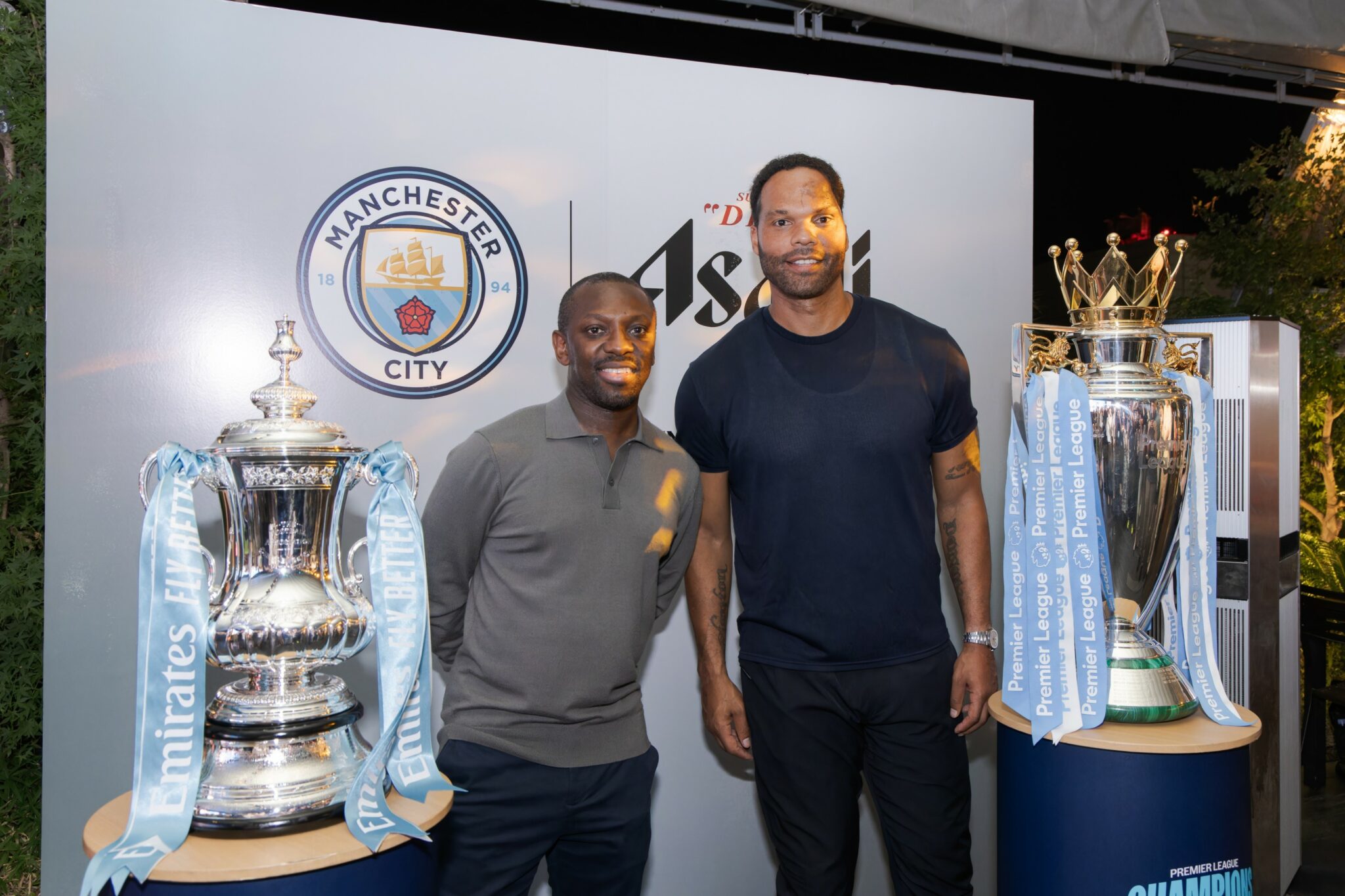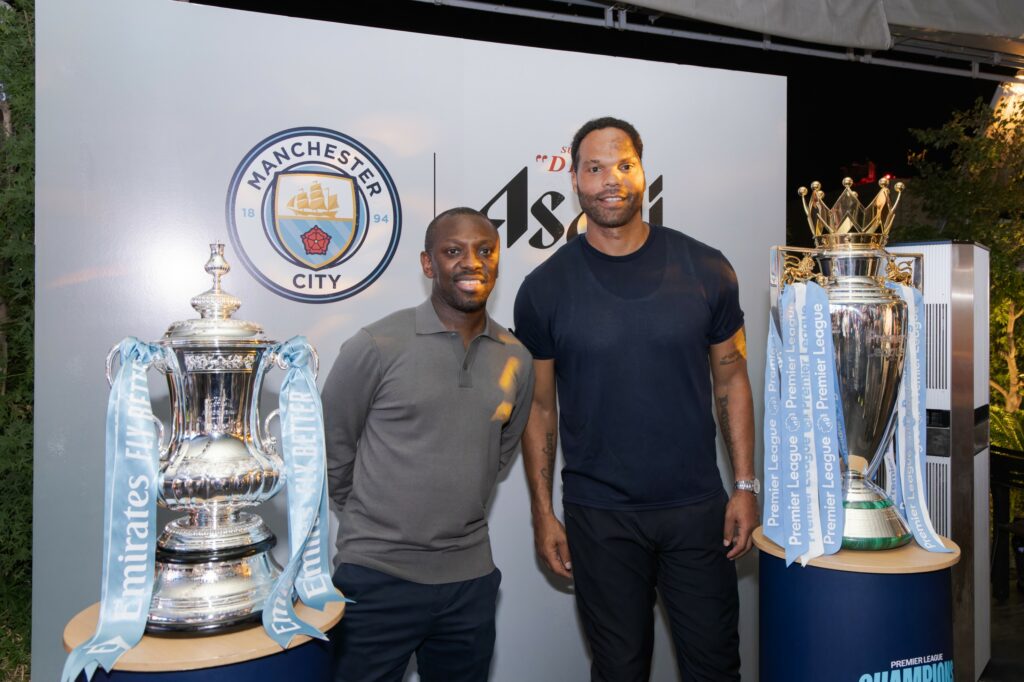 Elevating the Brand's Visibility
Joining forces with CFG isn't merely a sponsorship deal—it's a strategic alignment. As the Club's Official Training Kit Partner for the 2023/24 season, Asahi Super Dry graces the front of both men's and women's first-team training kits. This integration ensures not just brand visibility but a symbiotic relationship with one of football's most elite clubs. The brand's logo, shining on the jerseys, isn't just a mark; it represents Asahi's commitment to excellence, a trait synonymous with the football group.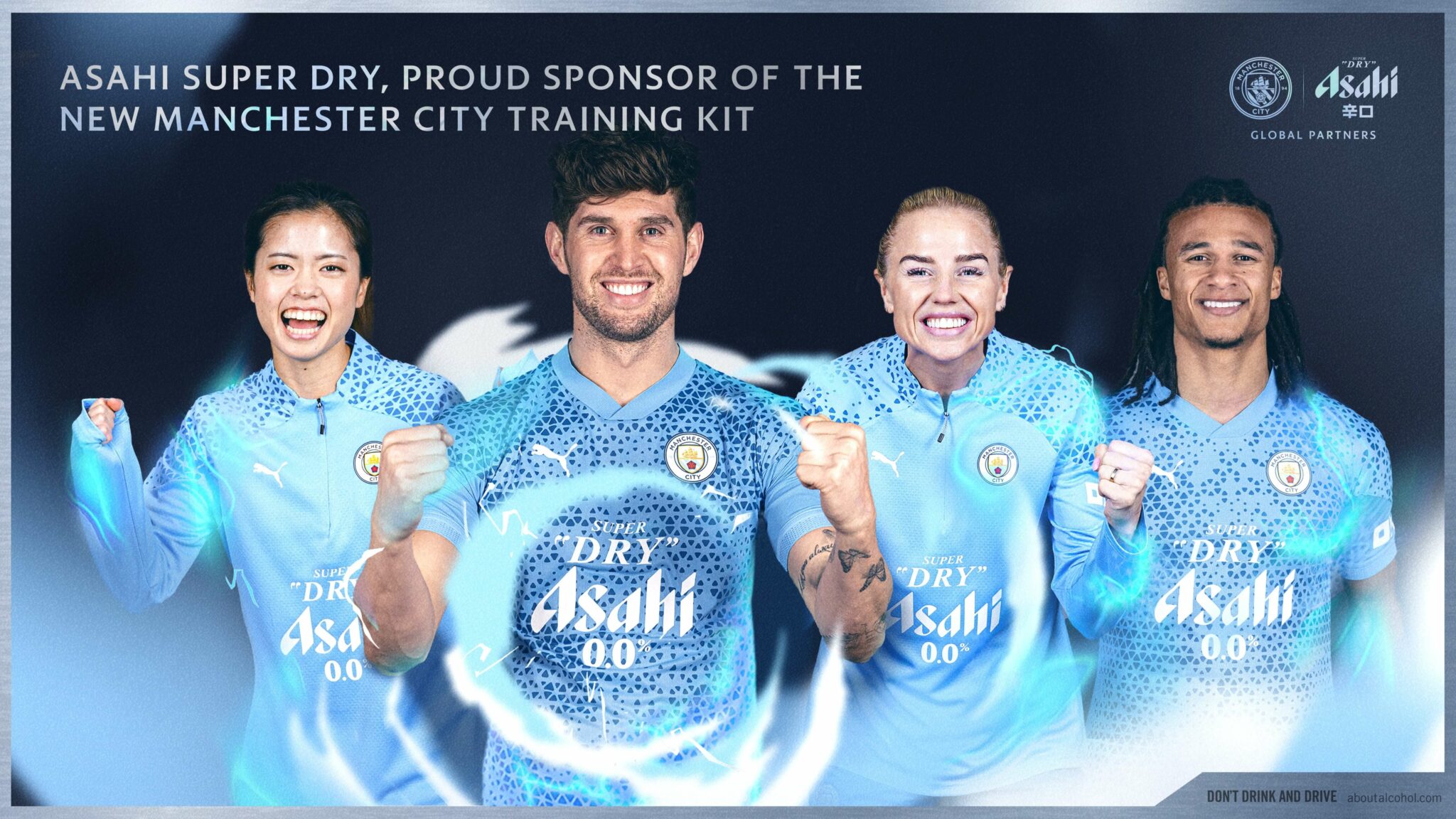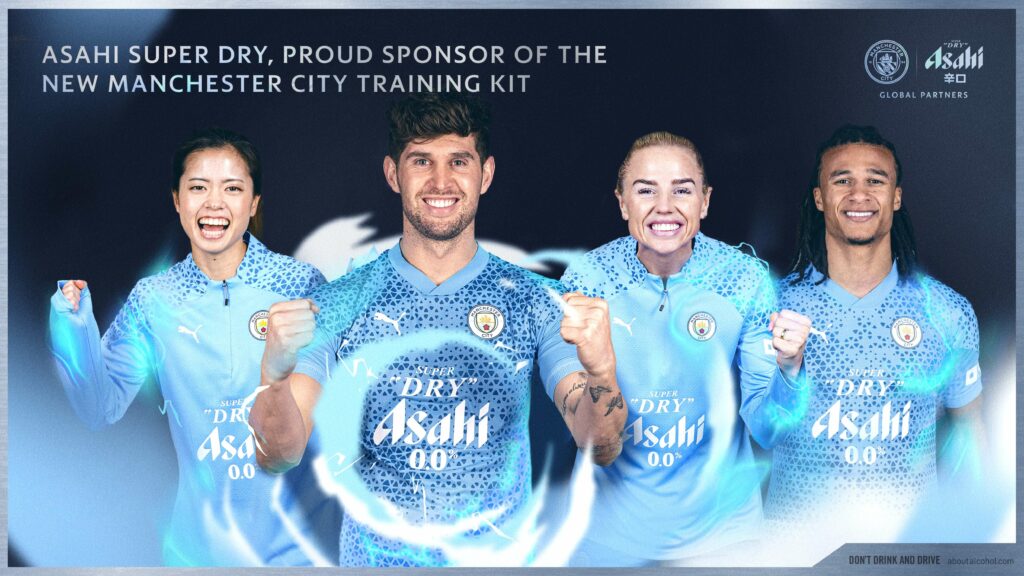 Immersing in 'Tokyo Subcultures'
But Asahi Super Dry's approach isn't limited to mere visibility; it's about integration and engagement. "The 'Tokyo Subcultures' initiative is a brilliant illustration of this. This three-part content series isn't just content—it's a cultural bridge. Featuring football sensations like Kalvin Phillips, Nathan Ake, and Kevin De Bruyne, the series dives into the vibrant world of modern Japan, introducing these stars, and by extension, their fans, to unexpected cultural nuances and experiences."
A New Dimension to Fan Engagement
Augmented reality (AR) has been a game-changer in enhancing fan experiences, and Asahi Super Dry, in partnership with CFG, is at the forefront of this revolution. During a high-profile pre-season match between Manchester City and Bayern Munich at the iconic Japan National Stadium, fans were treated to a novel AR filter, adding layers of interaction and immersion to their fan experience.
Elevating the Stadium Experience
The Etihad Stadium, Manchester City's home ground, is now not just a sporting arena but a hub of enhanced fan experiences. Asahi Super Dry's investment in 'premiumizing' the fan's entire experience is palpable in every corner of the stadium. The most notable of these is the Asahi Super Dry Tunnel Club—a luxurious enclave that melds the vibrancy of 'modern Japan' with the adrenaline of football. "From pitch-side views during warm-ups to exclusive interactions with players, it's an oasis of exclusivity."
Artful Fusion: Asahi Super Dry Meets Renowned Japanese Cuisine
Japan, with its rich tapestry of flavors and culinary traditions, holds a realm of gastronomic wonders. Asahi Super Dry, with its progressive spirit, has delved deep into this culinary heritage, seeking out dining spaces that are not just renowned for their dishes, but for their unique marriage of tradition and modernity.
Unearthing Hidden Culinary Gems
Delving into the heart of the city, Asahi Super Dry has ventured to discover restaurants that aren't just popular but are veritable treasures. Recommended by local culinary experts, these dining spots radiate the same progressive spirit embodied by Modern Japan. "All restaurants that were part of the trip were hidden gems in the city," and their selection wasn't mere happenstance. The criterion was clear: spaces that weave in Asahi Super Dry's ideals of Modern Japan's progressiveness.
Beyond Expected Pairings
In the realm of gastronomy, the right pairing elevates a dining experience from memorable to extraordinary. Both Asahi Super Dry and the master chefs at these distinguished venues share an unyielding commitment to offer diners unique taste experiences that transcend the ordinary. Signature dishes, such as the exquisite grilled Shizuoka black wagyu beef at Tree by Naked or the mesmerizing charcoal-grilled sea bass from MoonFlower Sagaya Ginza by teamLab, are prime examples. But what elevates these dishes? The answer lies in the pairing with Asahi Super Dry. With its characteristic 'QUICK PEAK' flavor and 'QUICK CLEAN FINISH', this beer becomes the ideal companion to these culinary marvels. The beer's peak in flavor delivers maximum beer enjoyment instantly, and its absence of an aftertaste ensures that the essence of the original dish remains unadulterated.
Spreading the Fusion Far and Wide
The success of this fusion isn't limited to Japan. Asahi Super Dry has its eyes set on a global palette. The intention is clear – to integrate this pioneering beer into modern local consumption patterns across various Asian markets. Through a series of strategic activations, both below the line and on social platforms, Asahi Super Dry is poised to make this fusion an integral part of the modern lifestyle and drinking repertoire.
Revamping Fan Experiences at The Etihad Stadium
The Asahi Super Dry Tunnel Club at Etihad Stadium gives fans an exclusive taste of 'modern Japan', complete with fine dining, exclusive access to players, and pitch-side viewing during warm-ups. On the other hand, Box 48 engrosses fans in the tastes, scents, sights, and sounds of modern Japan, amplified by elements like dimmable lighting and traditional Japanese 'Koshi' lattice work.
Asahi Super Dry remains committed to its core philosophy of blending tradition with innovation, while providing exceptional experiences. Their journey, as they march ahead, is nothing short of inspiring.