What's Happening:
Amazon Prime Day is returning this year on July 12-13, and previews of the online sales have consumers excited to take part in Amazon's biggest shopping day of the year. Although the company has expanded the shopping holiday to new markets this year, US sales are still predicted to account for over 60% of all Prime Day purchases as American consumers search for deals amidst rising costs and ongoing inflation 
On a global scale, hours spent on mobile will be up as users are seeking deals amidst the rising cost of inflation. We expect that during the week of Prime Day, consumers globally will shatter records by spending just over 1 billion hours on Android phones (outside of China) in Shopping apps, up nearly 40% from Prime Day week last year. 
Core consumer staples tend to be more resilient to the effects of inflation than items like luxury goods. As such we anticipate that sales of electronics will drop some. Meanwhile, we expect some apparel and accessories to see high sales in light of upcoming seasonal events  (vacations, summer events, and back-to-school).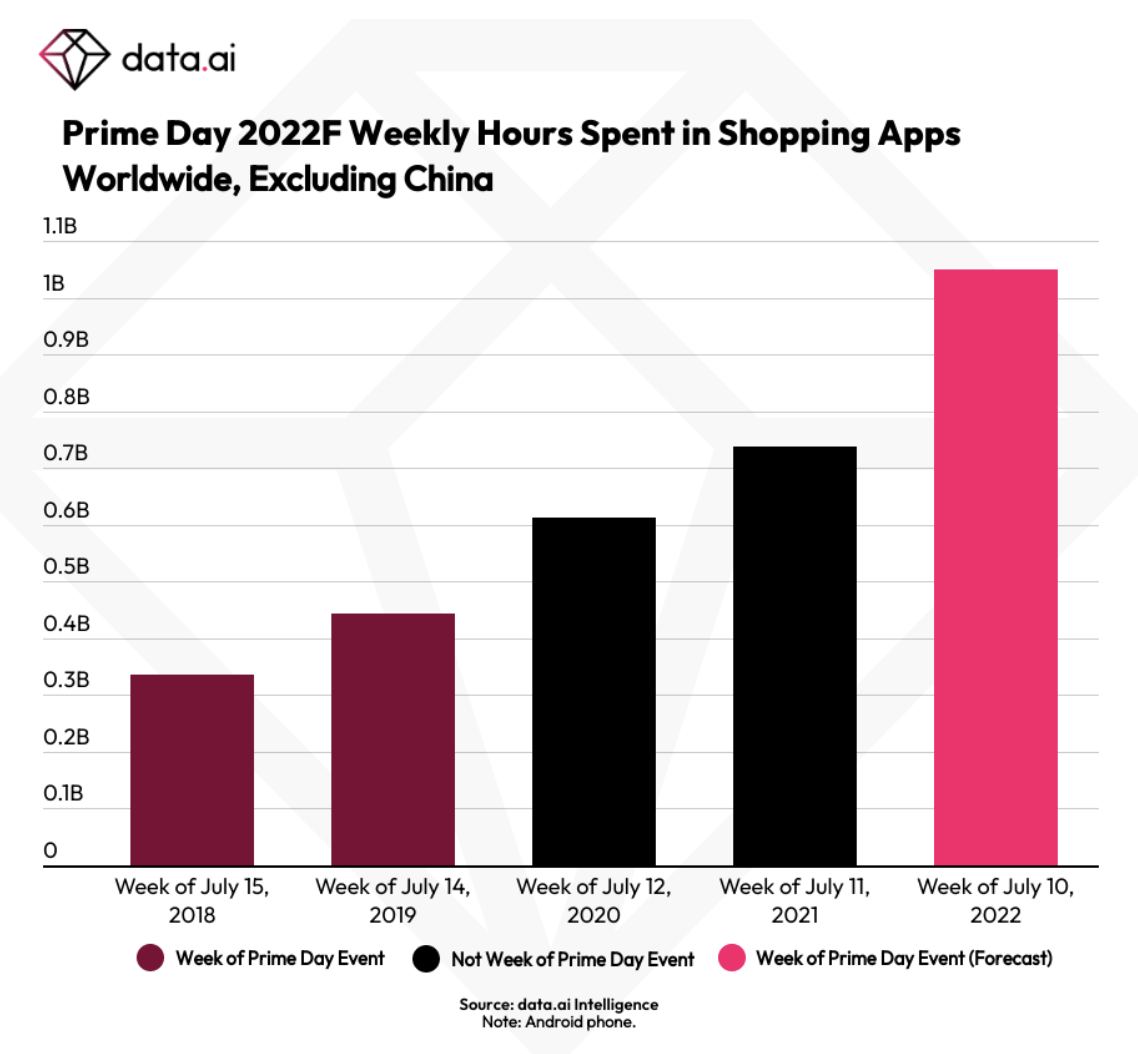 Why It Matters:
For the first time, this year Amazon is offering free Prime Day trial memberships as part of the event to lure new users to the platform and compete with other retailers, like Target, who are announcing competing sales events. Despite competitive sales among retailers, during Prime Day last year the week of June 20th, Amazon ranked #1 in the shopping app category by global downloads, followed by SHEIN and Shopee. All three of these apps also ranked as top 20 apps in the US by time spent in May 2022.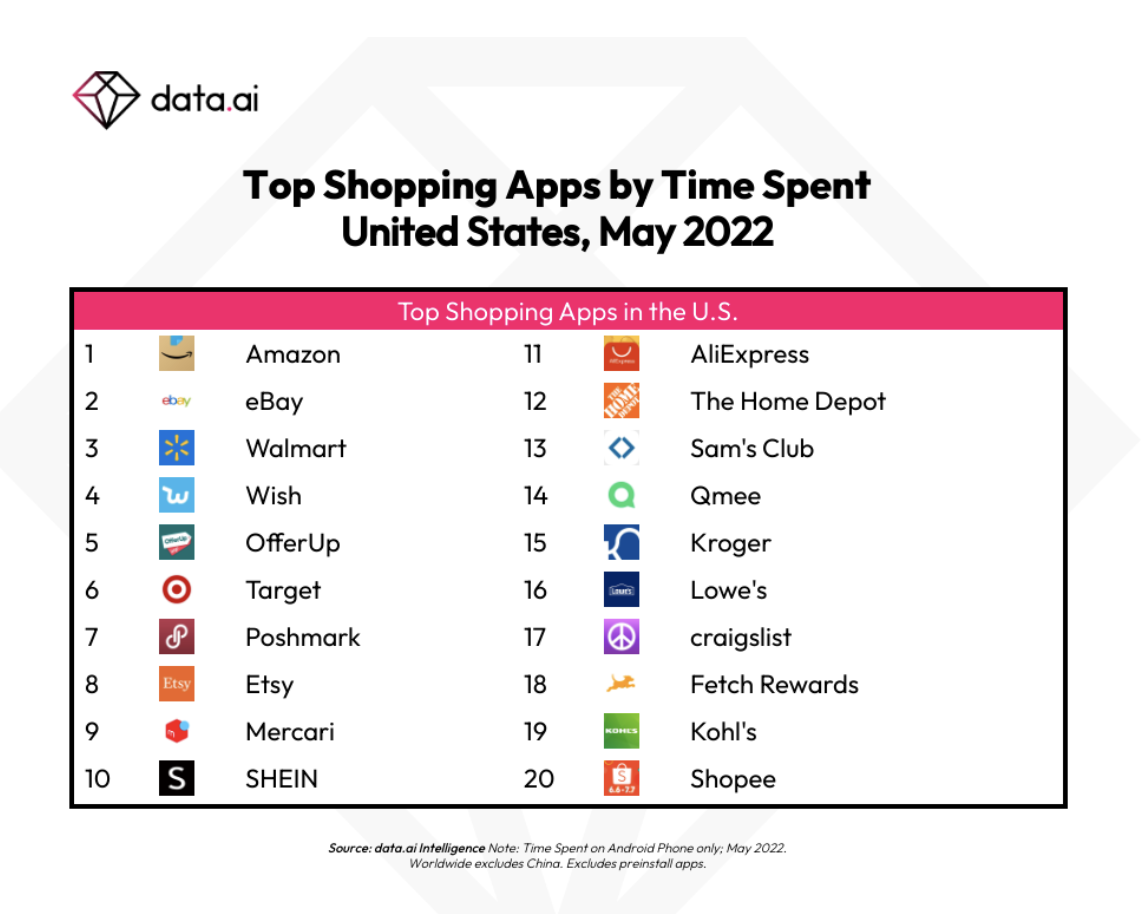 Americans spent $1.7 trillion online during the last two years of the pandemic (2020 – 2021), translating into a 55% increase in online (desktop + mobile) spending. Looking at time spent in mobile shopping apps also provides unique insight into changing consumer behavior. Dating back to 2015, Prime Day has traditionally taken place in July, except in 2020 when it was pushed to October and 2021 when it was in June. Over the past 3 years from 2018 to 2021, time spent in mobile shopping during the second week in July skyrocketed 120%, and in 2022, we expect to see a 213% increase since 2018. These growing numbers demonstrate that consumers are spending more time shopping on their mobile devices than ever before. 
In the US alone, we estimate that shoppers will spend 70 million hours on shopping apps on Android phones this year during the week of Prime Day. For perspective, during the week of Black Friday in 2021, users in the US spent over 75 million hours in shopping apps. While Black Friday has been a popular shopping holiday for decades, in just 7 years Amazon has managed to close the gap significantly.
Go Deeper:
Our prediction that consumers with Android phones will spend 70 million hours on shopping apps in the US alone during the week of Prime Day (and over 1 billion hours globally) signifies the ever-growing shift to mobile. 
As other large box retailers look to poach shoppers during Amazon's biggest sales event, the company has looked to gamify retail as a method for keeping users engaged. In the leadup to Prime Day this year, Amazon is launching the Prime Stampcard, allowing users to collect stamps for completing activities on the site or app between June 16 and July 13. Once shoppers collect four stamps, they will receive a $10 credit towards their Prime Day order. With competing sales events abound, companies must implement new ways to keep customers loyal and engaged.
Looking for More Mobile Insights?
Sign up here to claim a copy of data.ai's industry-leading State of Mobile report: Download the Report