Marketing management strategies are powerful methods that can be used to grow any business. These strategies are not only a great way to generate more revenue, but they also improve customer relations and help businesses reach their long-term goals.
Table of contents
What is marketing management?
Marketing management objectives
Marketing management strategies
What is marketing management?
Marketing management is a complex process that helps businesses promote to their target audience or market more successfully. With the assistance of a marketing manager or marketing team, companies can identify advertising assets, establish corporate objectives, attract new consumers, retain existing clients, and increase profitability. At the same time, marketing management also helps a business improve its market presence, remain visible and relevant, and generate more revenue.
Marketing management objectives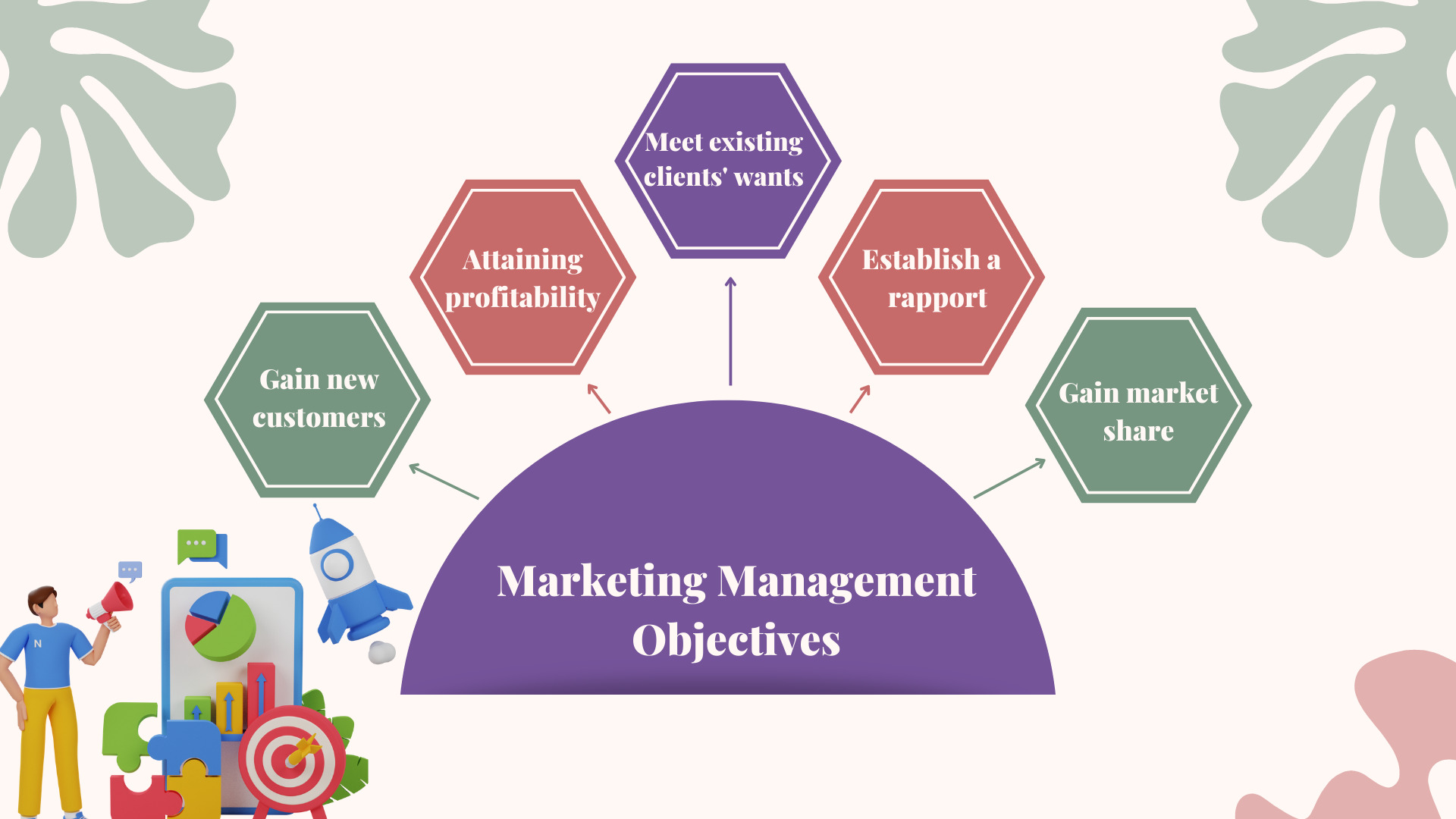 Companies cannot concentrate on marketing management without clearly understanding how it will benefit their business. Here are the marketing management objectives that every marketing strategy seeks to accomplish.
1. Gain new customers
Any company's objective is to acquire new consumers and raise income consistently. A marketing manager reviews existing market tactics and consumer information to discover which techniques attract new customers effectively.
A marketing manager may propose the following promotional techniques for products and services.
Social media advertising
Television advertisements
Website adverts
Live product demos
Mailers
Pamphlets
Promotional videos
Suppose there are unique marketing strategies that speak to your particular consumer base. In that case, a marketing manager locates this material and supervises the process of incorporating it into your marketing management strategy.
2. Attaining profitability
Profitability is essential for a business's success and further expansion. Plans and marketing strategies should target new and existing customers to enhance revenue and expand the client base. Strategic marketing management assists businesses in identifying which high-performing marketing methods are lucrative and which should be eliminated.
3. Meet existing clients' wants
In addition to focusing on acquiring new consumers, a firm should prioritise serving the demands of its current clientele. Using marketing methods such as regular promotions, existing customer sales, and seasonal discounts is an excellent method for retaining long-term clients. A firm should also provide excellent customer service, which is one of the finest methods to keep consumers satisfied and coming back for more.
4. Establish a solid reputation
In today's ever-changing market, businesses cannot rely solely on the quality of their products and services. Neither brand management nor reputation initiatives are limited to crises. If organisations have significant online interaction, a strong media presence throughout the web, and outstanding customer evaluations, they are creating and enhancing their industry reputation.
5. Gain market share
Market share is the proportion of a company's total sales within a specific industry. Amazon, for instance, is the leading e-commerce store with a 40% market share. A company may use marketing management to promote brand recognition and profitability, thereby increasing its market share.
If you wish to raise your revenues and expand your firm, you must implement an effective marketing plan. Effective marketing management allows you to bring your products and services to the attention of potential clients by increasing their interest in doing business with you.
Marketing management strategies
Here are five effective marketing management strategies available for use that will assist your business in unique ways.
1. Marketing management strategy: Email marketing
When creating an email marketing strategy, it is essential to have a clear objective in mind. Consider your broader marketing plan, such as selling more to cart-abandoning clients. Then decide how you will utilise email marketing to achieve this objective. If you want to increase sales through your website, for instance, it might be helpful to segment your list based on purchasing habits. You may also categorise your connections, from sponsored advertisements to social media, according to how they discovered you.
Email marketing is an effective method for attracting prospective clients and leads. An efficient marketing medium enables firms to access a highly focused audience. Depending on your specialisation, you may send specific individuals tailored messages. You may also send them unique discounts and deals. There are several benefits to email marketing. In addition to being economical, it may foster customer relationships. It may also be a terrific technique to improve your blog's audience and market your site.
Email marketing should be an integral element of your marketing management plan regardless of the type of business you operate. If you have a marketing objective, email marketing efforts are highly effective. Email marketing may help you cost-effectively achieve your objectives with the appropriate strategy. Thus, you cannot afford to disregard the effectiveness of email marketing.
A successful email marketing campaign needs nuanced language. Your subject line is the first thing buyers see, so it must be captivating.
Use questions to tease your audience. Avoid using terms that repel others. Your open rate will be substantially lower if you do not include clever wording in your subject line. Utilising an intelligent subject line is essential for enhancing your email marketing strategy.
2. Marketing management strategy: Relationship marketing
Partnership marketing is a type of relationship marketing. A partnership indicates a close tie between the firm and its clients. The corporation might bring in a third party to meet specific client demands or include the customer in the product or service's creation and improvement. Moreover, a collaboration can extend to the deepest level of consumer connection and conclude when the experience aligns with the organisation's aims and objectives.
Using this strategy, companies may establish long-lasting emotional connections with their customers. This is particularly useful for consumer-facing businesses. It provides the benefit of matching the features and advantages of the product with consumer preferences and trends. For instance, the e-commerce behemoth Amazon provides product suggestions based on the user's past purchases, and Starbucks provides a personalised coffee experience based on client input. This helps establish these companies as customer-centric brands. Relationship marketing is a form of the marketing management technique that has several benefits and may aid in expanding your business.
Relationship marketing focuses on maintaining existing consumers as opposed to obtaining new ones. When relationship marketing is utilised, potential clients are frequently missed and disregarded. Establishing personal relationships is a time-consuming endeavour that does not generate instant rewards. Nonetheless, it is an effective method for raising income since it fosters long-term relations.
3. Marketing management strategy: Influencer promotion
Influencer marketing may be an effective method for advertising your e-commerce shop. Though it is nothing new, it has definitely gained massive traction with the popularity of social media influencers. Providing an influencer with a link to your website is simple, reducing confusion and ensuring that your message gets received. Influencers can also generate revenue through affiliate links and discount coupons that link back to your shop. By supplying a code to your influencer partners, you can also measure the ROI of your influencer marketing campaign.
The effectiveness of your influencer marketing plan is contingent on the amount of time and resources you are willing to invest to ensure the success of your efforts. You must establish a budget for influencer marketing, spread the associated risks, and effectively manage the process.
After identifying your target audience and the sort of material your influencers will produce, you will need to monitor the success of your campaign. Measure the performance of your influencer marketing strategy with measures like referral traffic, reach, and conversion rates. Utilise a marketing solution to assist with campaign tracking, and after collecting the appropriate analytics, it is time to begin developing content for your influencers.
Influencer marketing enables you to access untapped audiences and capitalise on existing partnerships. The idea is to create relationships and trust with your influencer partners. It will deliver actual business outcomes for you in the end.
4. Marketing management strategy: Paid marketing
Paid advertising is a form of marketing that enables firms to purchase advertising space in order to attract specific clients. It mainly consists of display or retail advertising and is acquired through bidding. Paid marketing is often more expensive than earned advertising, but it may give a firm extensive exposure. It can be used to promote a brand or product through various media, from newspapers to internet display ads.
An effective paid advertising campaign will produce leads depending on several criteria, including the content's relevance and the landing page's quality. Different ad groups may employ distinct landing pages. To measure lead conversions, use a tracking pixel, HubSpot, UTM parameters (such as "percentage of visitors who watched your ad"), or another tracking solution.
In addition to concentrating on lead conversion, offer marketing may efficiently attract clients and boost revenues. Include discounts, sweepstakes, and limited-time offers in your promos. You may also develop dedicated sign-up sites to identify visitors who come from your advertisements.
Over time, paid advertising has developed. Today, the majority of extensive paid advertising networks use algorithms to choose which advertisements to display. These algorithms are meant to identify and make judgments based on a range of signals. As a result, people select advertisements that are more likely to attract attention and clicks.
5. Marketing management strategy: Local advertising
Implementing local marketing management methods is one of the finest ways to grow your organisation. These techniques are intended to increase business and consumer acquisition. Here are the most effective local marketing management tactics for optimising outcomes:
Target local clients: Local marketing is a goldmine for firms seeking to attract local clients. Local marketing management solutions are ideal for organisations with physical sites. By targeting local consumers, you can increase your search ranks, acquire new clients, and develop a strong presence in the local region. This form of advertising might help attract new clients to your business. Why not give it a shot? There are several advantages of local marketing that you may have overlooked.
Make your website mobile-friendly: Mobile-friendly websites typically display larger text and forms and load quickly on mobile devices. This makes mobile site navigation far more convenient. Local marketers should use Google's Mobile-Friendly Test to see if their websites are mobile-friendly. It is also advisable to choose a CRM that combines CMS and CRM. Strategies for local marketing management must be responsive across all devices, including mobile devices.
Optimise local marketing: When firms employ local marketing tactics, they have a deeper understanding of their consumers and are able to provide them with relevant, customised information. Because your firm caters to these clients' demands, they are more likely to develop brand loyalty. In addition, local marketing provides for the more focused promotion and the conservation of marketing resources.
Conclusion
A business that does not grow will ultimately fail. The same applies to marketing strategies. Without proper planning, your marketing campaign will perish.
Long-term company planning may help you prevent this by laying the groundwork for success and identifying chances for business expansion. Implement these five marketing management tactics and observe the results.