Malaysian celebrity and former singer, Mizz Nina, has unexpectedly become a sensation on Malaysian Twitter following the unexpected revelation of her marriage to Essam Muhammad, a US-based rapper. This startling news was shared by Mizz Nina herself, originally known as Shazrina Azman, via an Instagram post last night.
The private wedding ceremony was a quiet, intimate affair attended by close friends and family. Expressing her happiness, Mizz Nina, dressed in a white jubah alongside her spouse, declared, "Alhamdulillah, our parents' blessings have allowed us to complete the other half of each other's 'deen'." She further underscored the couple's shared dedication to 'da'wah' and their mutual aspirations and enthusiasm for this fresh chapter in their lives.
Underscoring the transient nature of life, Mizz Nina stated, "This world is temporary and tomorrow is never promised." She acknowledged the essence of marriage, emphasizing growth in love, tranquility, mercy, and the ultimate goal of seeking the pleasure of Allah. A private wedding reception in Kuala Lumpur is in the couple's immediate future.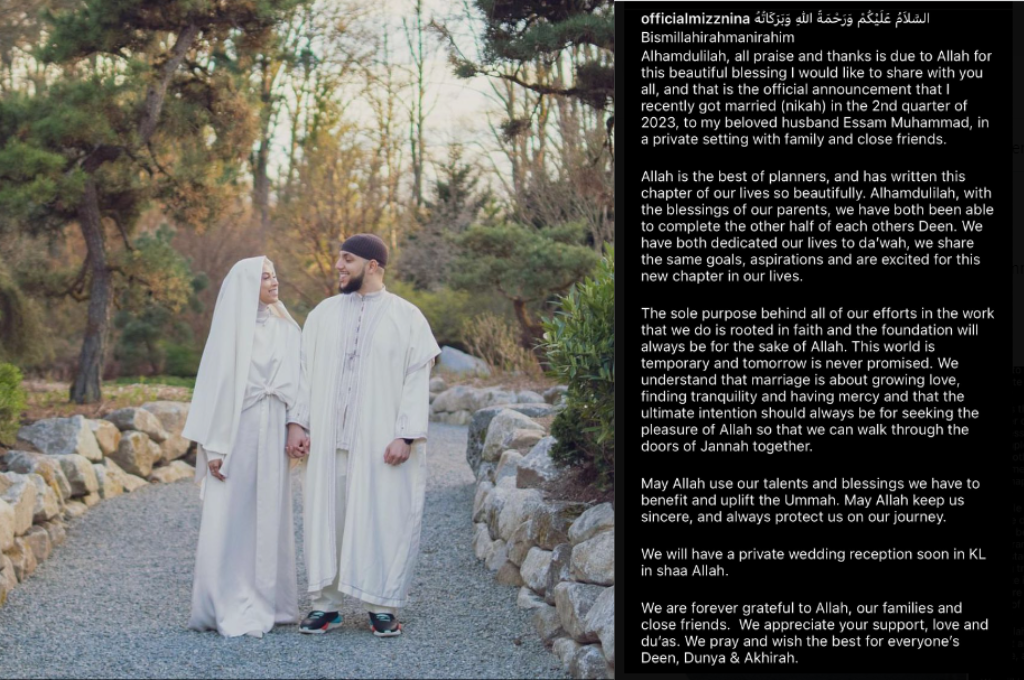 The surprising announcement garnered a deluge of support from fans and fellow celebrities alike, amassing over 200,000 likes. Mizz Nina's name is now trending on Malaysian Twitter, with more than 6,000 tweets circulating.
Essam, based in South Seattle, is recognized as a hip-hop artist actively engaged in community outreach, often addressing pertinent issues through his music. His discography includes two albums titled 12.12 and Chapter20six on Spotify.
This marriage marks a new beginning for Mizz Nina following her divorce from Hujan band frontman, Noh Salleh, in August last year. They were previously wed in 2011 and adopted a baby boy named Musa.
This news story is based on an article from malaymail.com.