Southeast Asian Domination
As global wanderlust picks up momentum and wings get ready to soar the skies, insights from the renowned digital travel platform, Agoda, offer a panoramic view of the most favored flight destinations for 2023. It's evident that Southeast Asia, with its vibrant culture and stunning landscapes, is the gem that travelers worldwide seek.
Malaysia's Travel Pulse
Within Malaysia's confines, the dazzling metropolis of Kuala Lumpur proudly occupies the zenith for domestic travels. Meanwhile, when Malaysians choose to cross the border, the island city-state, Singapore, emerges as their primary international destination.
A Closer Look at International Travel Trends
A deep dive into Agoda's extensive booking data showcases a prevailing trend: four out of the top five international flight destinations are ensconced in the heart of Southeast Asia. Leading the charge is Thailand's vivacious capital, Bangkok. Following closely are Singapore, Seoul (South Korea's pulsating heartland), Vietnam's bustling Ho Chi Minh City, and rounding up the top five is Kuala Lumpur.
"Many factors contribute to the popularity of Southeast Asian cities", notes Andrew Smith, Senior Vice President of Supply at Agoda. "These cities represent five bustling metropolises, with rich culture and history, an exquisite culinary scene, and unique nightlife. Even with airlines expanding their routes and fleets, I wouldn't be surprised if we'll see these amazing destinations ranking high for years to come."
Malaysia's Top Picks: Short-haul Travel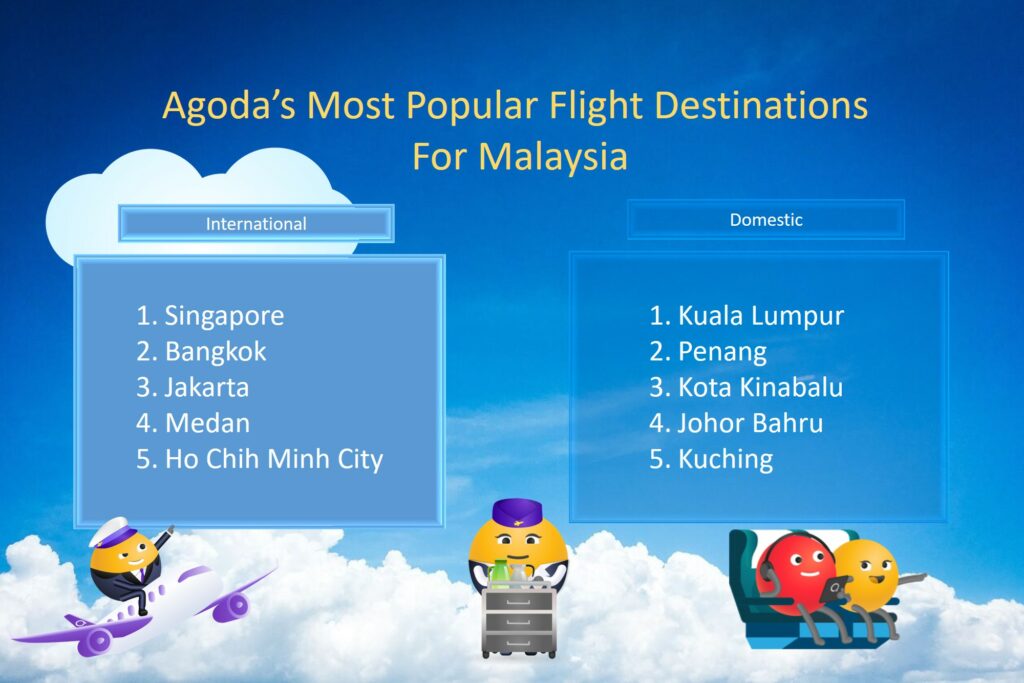 The pulse of Malaysian travelers clearly resonates with the allure of Southeast Asia. Apart from their top choice, Singapore, their subsequent international preferences include Bangkok and Jakarta. This list is completed by Medan and Ho Chi Minh City, emphasizing the favorability of short-haul travel within this captivating region.
Malaysia's Domestic Preferences
For those preferring the familiarity of domestic bounds, after Kuala Lumpur, the other hotspots include the picturesque Penang, the serene Kota Kinabalu, the vibrant Johor Bahru, and the culturally rich Kuching.
The data stems from meticulous analysis of Agoda Flight bookings, specifically those made from January 01 to June 31, 2023.