Mobile Gaming Is Set to Surpass $136 Billion in 2022 — Growing 1.7x Faster than the Gaming Market Overall
In 2022 mobile gaming will surpass 60% market share in annual global consumer spend — 3.2x the size of the next largest form factor: Home Console Gaming. Our latest report with IDC breaks down the global gaming market in 2022 — highlighting areas of growth in specific devices: Mobile vs PC/Mac vs Console vs Handheld console, and how you can succeed in gaming in 2022 and beyond.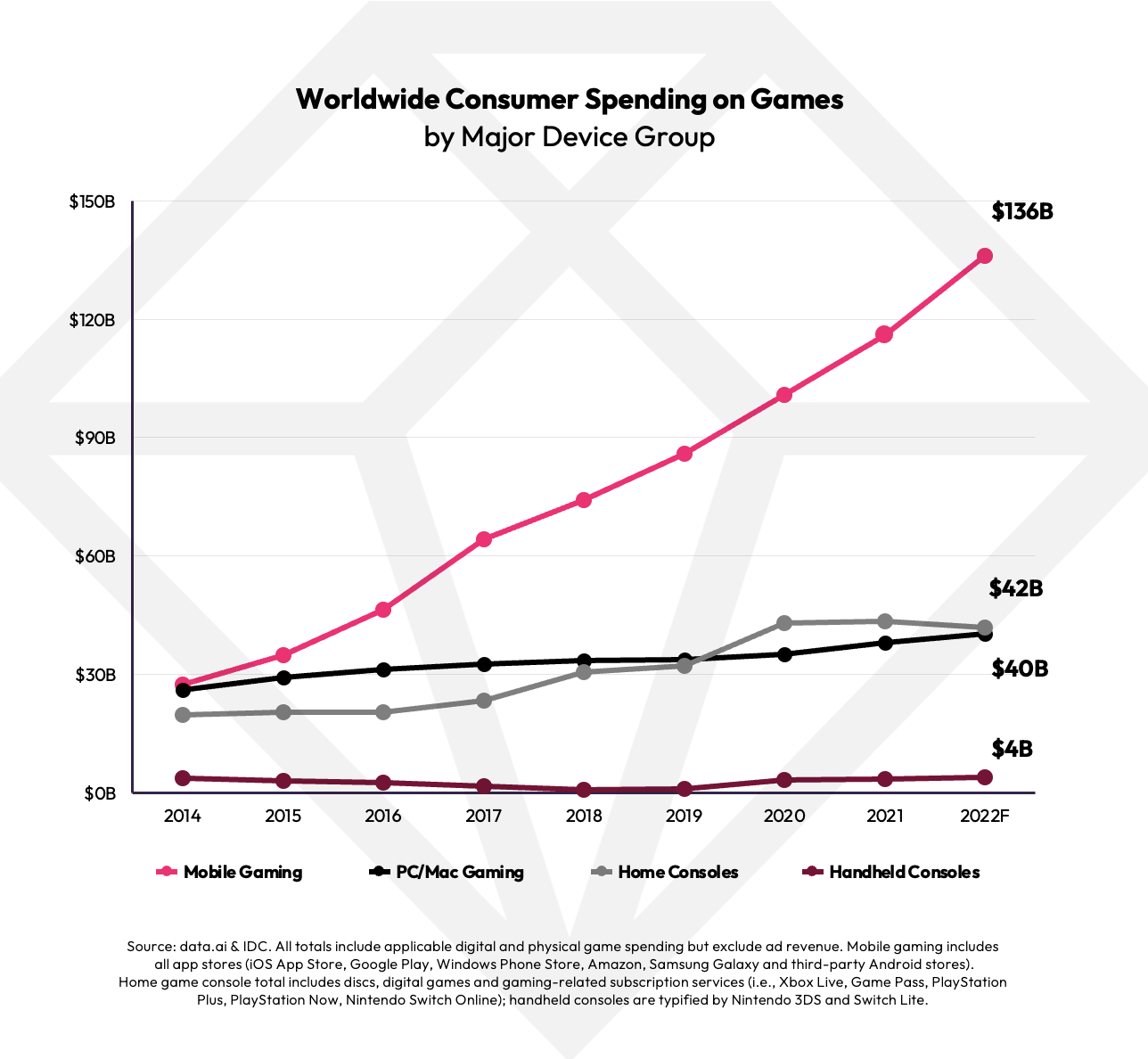 In 2022, Mobile Expanded the Gaming Market — Marking the Most Inclusive Form of Gaming Yet Across Genders, Generations and Gameplay Interests
Mobile has enabled the complete democratization of gaming — allowing for every type of gamer to gain access to their niche, whether it's a specific subgenre from hypercasual to match-3 to core games like open world adventure format, or it's a demographic cohort. Mobile gaming sets the stage for the 'new gamer' which is the most inclusive cohort yet. Powered by Game IQ, data.ai's 2022 Gaming spotlight report shines a light on the scope of interests reflected across gaming subgenres in high demand on the app stores — showing how mobile gaming gives access to all types of gameplay unseen on this scale in console, PC/Mac or handheld console. 
We also see demographic inclusion — with expansion in both ends of the spectrum: in the US 47% of the top 1000 grossing mobile games skew towards Gen Z, up from 41% 2 years ago. Conversely (and contrary to what many may infer), the Gen X/ Baby Boomer age bracket (those aged 45) were the fastest growing age group for mobile spending in the US, with share of games skewing towards older audiences up 31% (7 percentage points) from 2019 to 2021.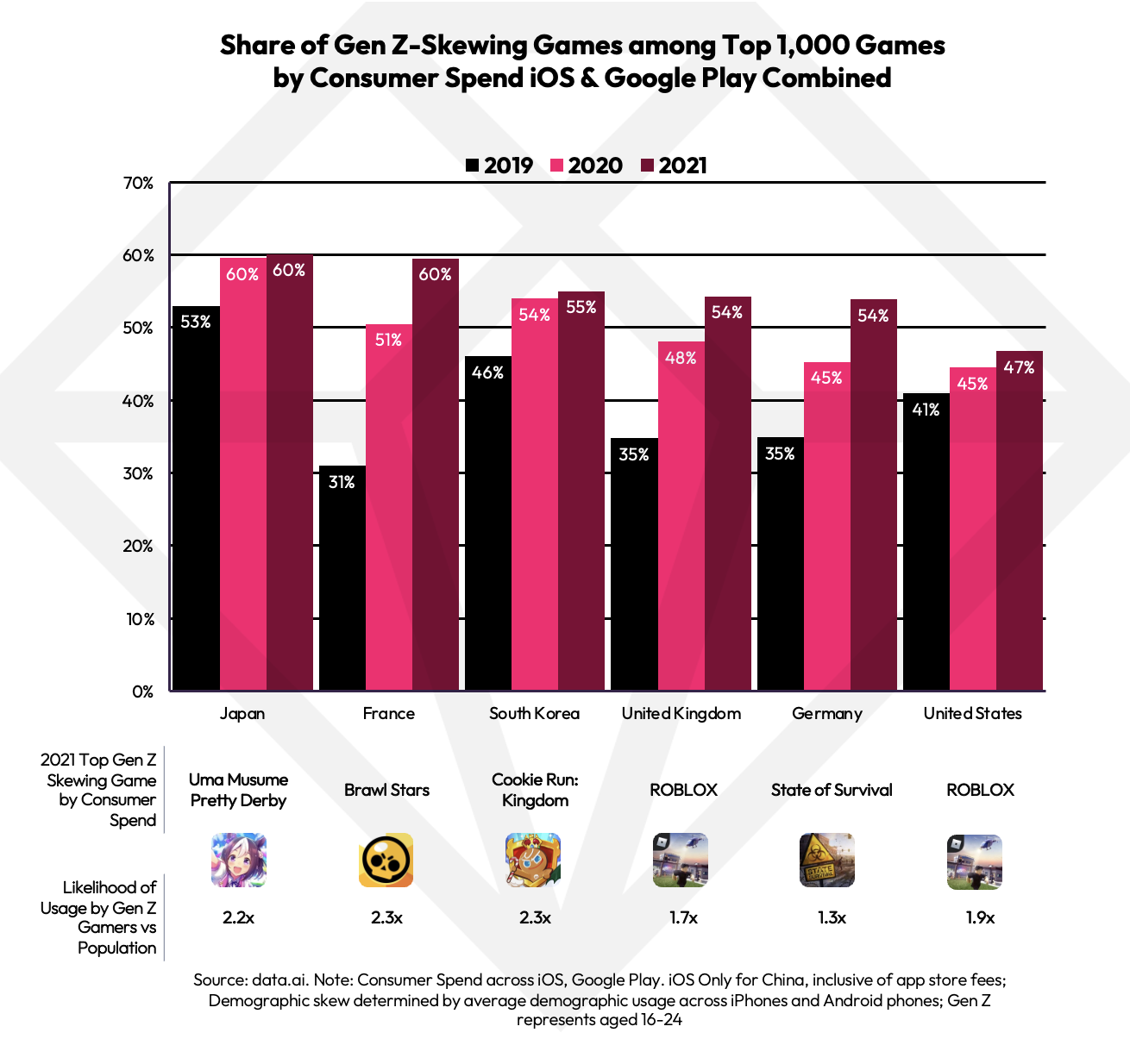 Read the Full Report to uncover further demographic preferences by gender, age, market and Game IQ subgenre.
2022 Geopolitical Macro Climate Impacts Gaming Market in Eastern Europe
Weekly game downloads and consumer spend saw a dip in Eastern Europe during March and April 2022. For consumer spend, Russia saw the greatest impact — a result of Google and Apple's payment processing freeze in the country. Russia's share of gaming consumer spend in Eastern Europe dropped from 50% to 10% in April 2022. Outside of Russia, consumer spend on games in Eastern Europe has remained relatively stable through mid-April in 2022.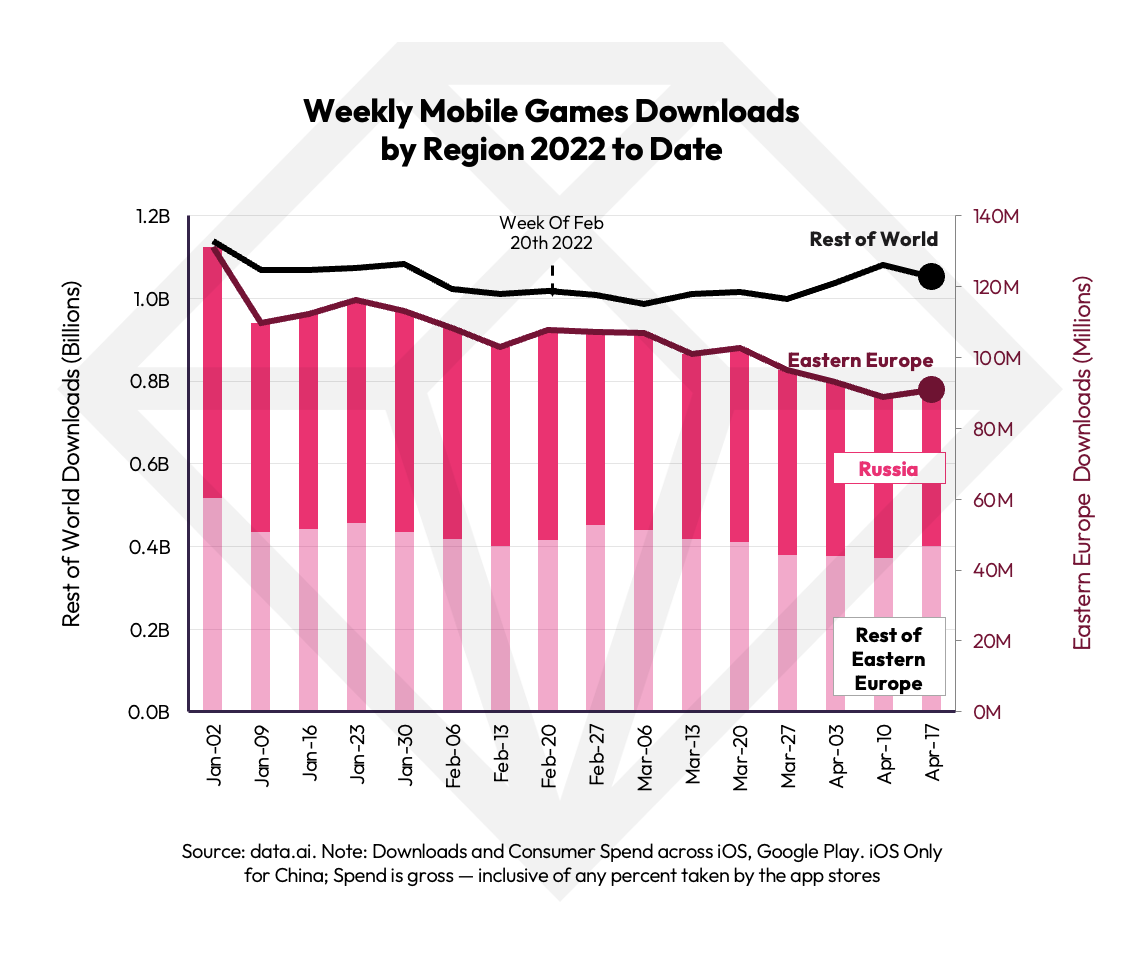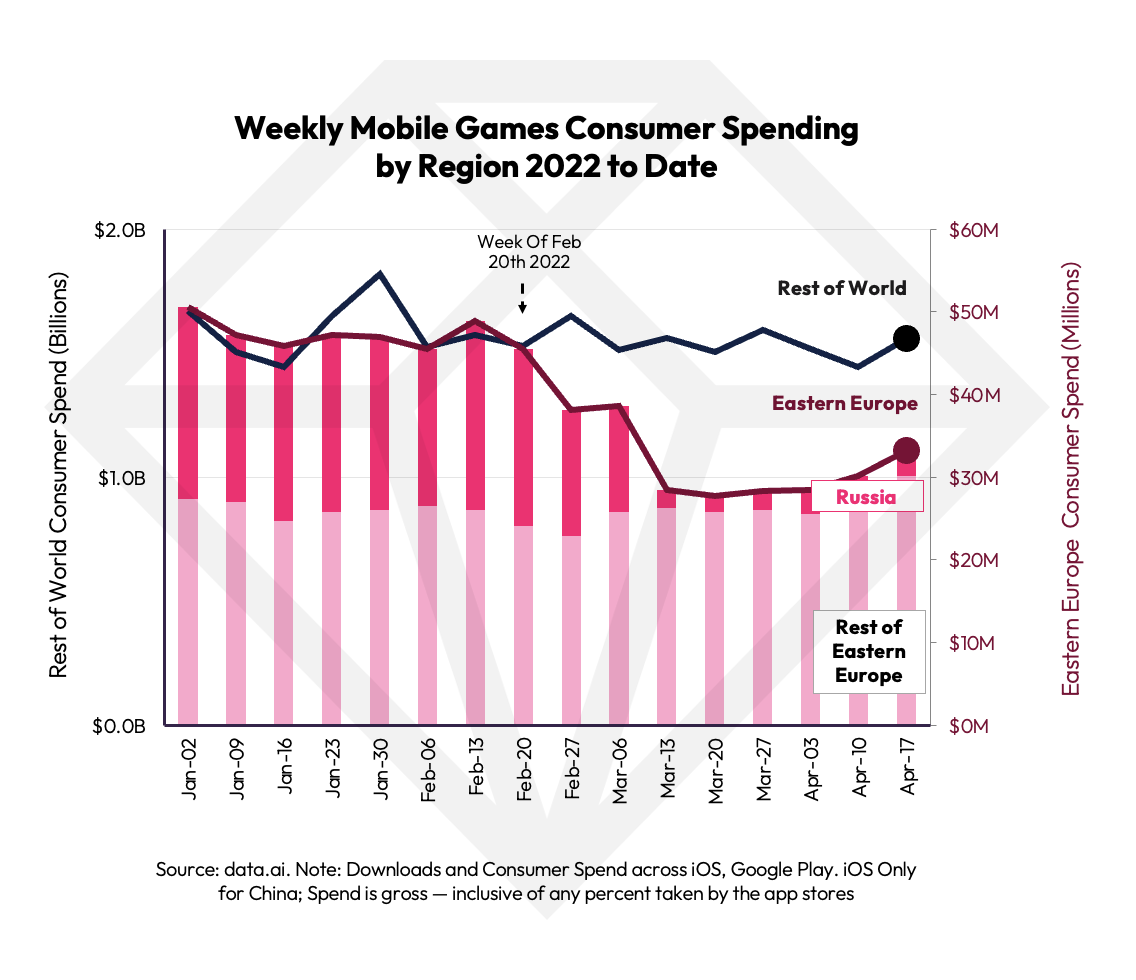 Consumer Sentiment Points in Favor of Privacy Yet Also Willing to Accept Ads in Exchange for Free Content, But Tolerance of Ads Varied by Type for Gamers
According to IDC, generally most mobile app and game users (by a 3:1) margin would rather see ads in exchange for free content and services than to pay for apps and avoid all ads. As a monetization mechanic, data.ai data shows that games which monetize through the app stores are experimenting with hybrid models that include ads as a way to make gaming more inclusive and accessible for the widening gaming audiences, as well as more lucrative for the publishers.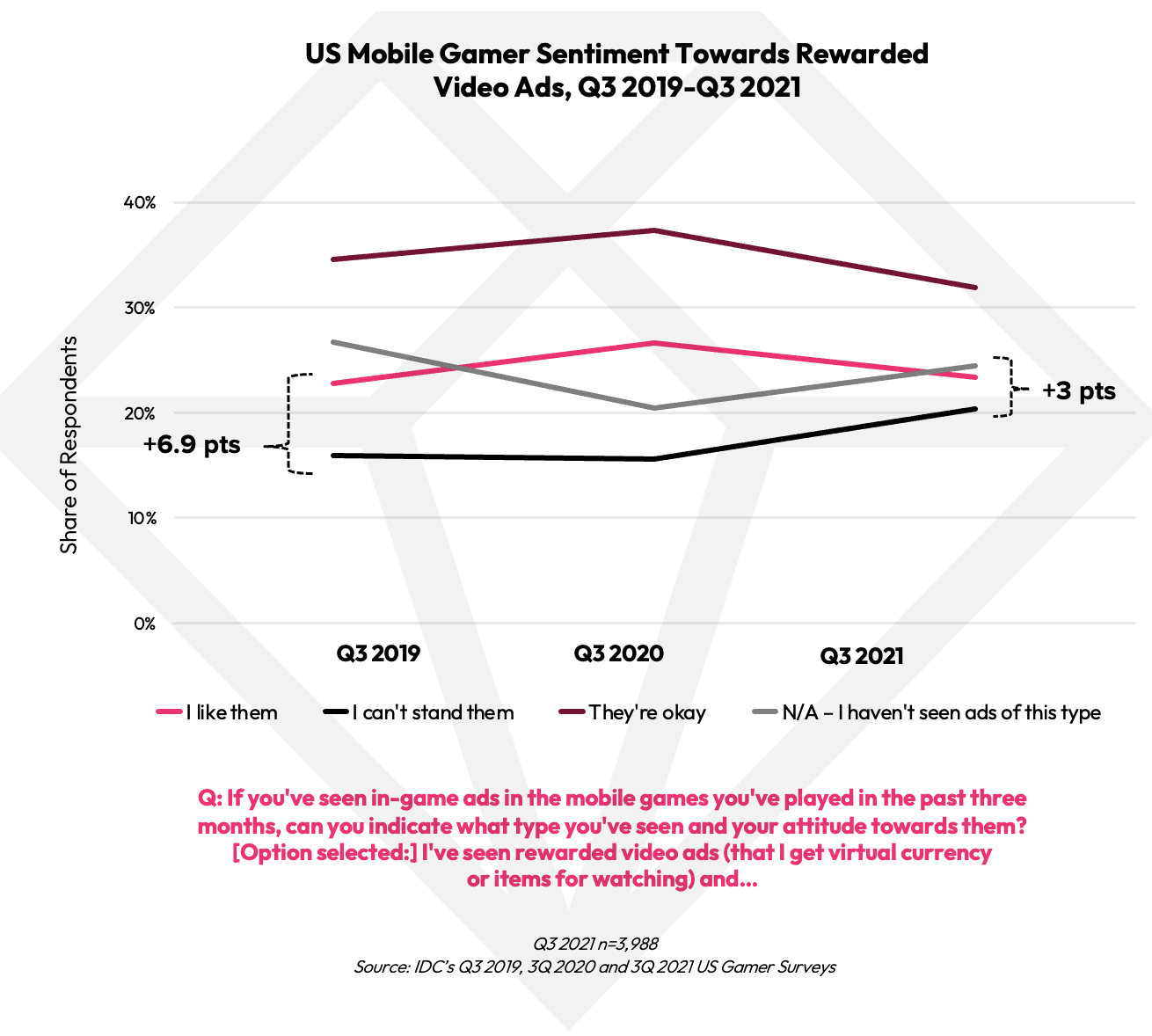 Read the full Gaming Spotlight Report to uncover how mobile gamers perceive all types of ad formats, and the strategies you need to know to put your best foot forward with an advertising mobile strategy.
That being said, the impact of IDFA is apparent, and consumers still favor privacy when it comes to ad tracking — underscoring the importance of contextual market data to inform successful strategies. For gamers specifically, we see that sentiment towards ads varies dramatically by type. In the US, sentiment towards video and banner ads have grown more positive, but still skew more negative overall. Rewarded Video ads remain the most positive for gamers, but sentiment has dipped slightly in 2021.
Go Deeper: Download the 2022 Gaming Spotlight Report to Uncover the Trends You Need to Know Across Mobile, Console and PC Gaming
Download the full report to uncover: 
Which form factors are driving the most growth and how to leverage a cross-platform strategy to compete
How mobile has democratized gaming and

 

how Game IQ can help you identify and create a robust strategy to win on mobile

Which subgenres and geographies represent the biggest growth opportunities for mobile, PC or console and 

how to capitalize on this growth
How demographic preferences shape mobile gaming habits and how to optimize for your target audience in a changing landscape

What benchmarks you should reference for User Acquisition and 

how to leverage for paid UA to grow your audience

How consumer sentiment towards an advertising monetization is changing and 

why trustworthy contextual market data is needed to inform successful mobile strategies

And more!