The production of a video has the potential to be quite pricey, but this is not always the case. Because video-making equipment has grown increasingly available to the typical marketer and business owner of a small company over the years, it is now possible for virtually anyone to initiate their very own video marketing campaign. It is not necessary for a low-cost video to have the appearance of a low-budget choice; plenty of low-cost videos have an appearance that is just as polished and professional as their more expensive rivals.
According to the findings of a poll conducted by the 2022 HubSpot Blog, 31% of video marketers cite an inadequate budget as their greatest obstacle when it comes to the production of video content.
A large number of companies have a low marketing spending limit, with 15% of respondents allotting between $1,000 and $10,000.

11% of the marketers polled had a budget between $10,000 and $20,000.

According to the results of the survey, the most common budget range is between 20,000 and 60,000 dollars, followed by 26% of marketers.

According to the results of the poll, 16% of marketers invest between $80,000 and $100,000, while 20% of them invest between $100,000 and $200,000.

Only ten per cent of the organisations' budgets surveyed were more than two hundred thousand dollars.
The Problems with Traditional Video-Making Techniques
Producing a video requires far more effort and time than other forms of expression, such as writing. Even in this day and age, producing particular kinds of marketing videos on a budget requires a significant amount of specialist knowledge in addition to specific pieces of equipment.
How does one get there via the "traditional" method?
If a firm wants to make a marketing video in the "traditional" way, it will need to find a screenplay, employ actors and camera crews, and then pay for professional video editing services. This is all in addition to the costs associated with making the video. That entails a significant financial and time commitment. In the past, as a result of this, marketing videos were prohibitively expensive for organisations that had more limited spending limits.
Thankfully, that is starting to change. The average person can now create professional-looking promotional videos on a shoestring budget thanks to technological advancements. Although it is still possible to make your film by renting expensive equipment and working with pros, this is by no means the only option available to you today. And a lot of the time, videos made with a smaller budget can look just as excellent as videos made with a larger budget.
The decrease in expenses associated with the production of videos can be attributed to a variety of factors. The quality of cameras has significantly increased, and if you have a smartphone, you probably have a camera capable of recording high-definition video right now in your pocket. Because of this, the process of recording footage is streamlined to an unprecedented degree of efficiency. Additionally, you are no longer restricted to making only live-action videos. Even if you have no prior experience with animation or video editing, you may produce your very own animated video with varying degrees of flexibility by using tools that are either free or available for a very minimal cost on the internet.
If you are ready to get creative and spend a little time in the process, it is quite possible for you to make a marketing video on a budget. In a nutshell, this is something that you can do. Before you start making videos, you should familiarise yourself with the following information.
Affordable Video Marketing Strategies to Use in Your Business
Decide the purpose of your video
The first thing you should do when you start planning your video is to figure out what you want it to accomplish. Every marketing video requires a cause to exist, whether you're attempting to educate your audience on your service or you'd want to reach more people on social media. Even if you're on a tight budget, you need a purpose for your marketing video. Consider who you want to see your video, what you want them to do when they've finished watching it, and how you'll determine whether or not your movie was successful.
Write a narrative for your marketing video, and then make a storyboard to accompany it. This will help you nail down the specifics of your video. The screenplay for your video is a written synopsis of everything that takes place in the video, including the dialogue, voice-overs, scenes, action, and transitions. It is essential to have a storyboard since it serves as a visual tool that outlines the action of your video, frame by frame. Together, these tools assist you and other people in visualising your film and making any necessary adjustments before to the beginning of the process of actually generating the video.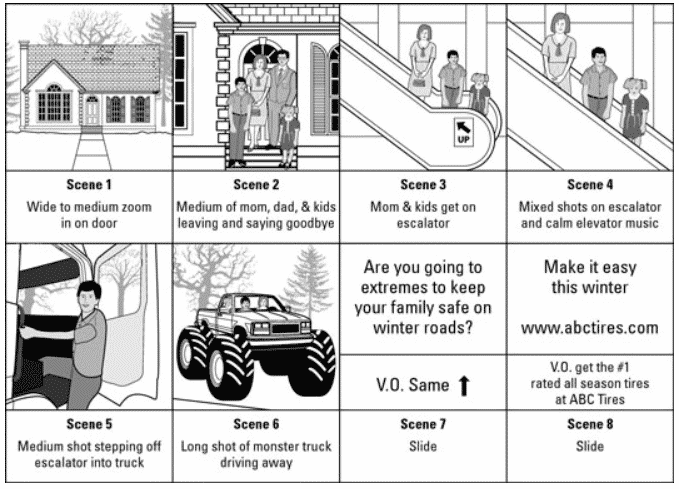 Photo by Wave Video
Differentiate between things that are needed and those that are desired
When it comes to video equipment, there will never be a time when there is nothing bigger or better available. If there's one thing you need to concentrate on, make it the lighting.
Many people are under the impression that having the best camera is all that is necessary, but the reality is that lighting is what determines the overall quality of a movie. Lighting is responsible for establishing a video's tone and mood, which are two components that are required in order to keep an audience's attention throughout a video.
Another important component to invest in is the sound, and more specifically, the microphones. This will improve the quality of your video, which is especially beneficial in the event that you are only able to obtain low-end cameras. When it comes to everything else, including the camera, the lens, and the accessories, these are all wonderful additions; however, if you are on a tight budget, you can get by with low- to mid-range options and still produce high-quality work.
Make sure your videos aren't too long
A marketing video that is only two minutes long costs far less to produce than one that is 10 minutes long. People are also more likely to continue watching shorter films than they are lengthy ones. Your video's optimal length will be determined by both the nature of your content and the medium on which you wish to publish it; however, in general, it's not a terrible idea to shoot for a duration of two minutes or fewer.

Infographic by Wave Video
Hire student and amateur talent
When it comes to on-camera talent, this is typically the area in which marketers have the most trouble coming up with alternate options.
They typically choose an in-house creative in order to save money, despite the fact that the role may not focus at all on this aspect of the business. Or, alternatively, they hire personnel on a contract basis, which can be expensive. Reaching out to students and other amateur actors is a third option that you have.
There are situations in which financial gain is not the primary driving force. It's not uncommon for it to be exposed, getting experience, or constructing a portfolio as the goal. However, compensated positions will invariably attract more attention and may enable you to recruit individuals with a higher level of experience.
Make advantage of content that was generated by users.
If you are active across multiple social media platforms, it is probable that you have accumulated a cache of user-generated content in the form of photographs, videos, and written posts. You may take use of all of them for your campaigns and utilise them to augment the material you produce yourself.
For example, prior to the formal introduction of Fenty Beauty perfume, its founder and musician Rihanna posted something on social media that appeared to be an advertisement. It was a video compilation of numerous celebrities and influential people commenting on how good she smelled; the term "like heaven" was used multiple times throughout the compilation.
just sayin' 🤷🏿‍♀️… pic.twitter.com/EmC4ysMdjR

— Rihanna (@rihanna) August 10, 2021
Utilizing user-generated content (UGC) allowed the company to generate excitement about their upcoming launch without ever having to develop its own video.
Make use of software that is completely free
Adobe is probably the first name that springs to mind when you think of editing videos on a computer. It is the programme that all production professionals should be using. However, it is difficult to understand and cannot be afforded. You will already have access to free video editing software if you have an Apple product such as a Macbook or iPad in your possession.
Simple editing is where it shines, and if you get stuck, there are always solutions to be found on sites like YouTube. Despite the fact that it does not have as many capabilities and only has restricted capabilities, it works effectively. You can locate online websites that offer music without having to pay any royalties if you look, or some free editing software comes bundled with free music.
Final thoughts: If the thought of video marketing makes you uncomfortable because you believe that you do not have the cash necessary to execute it, these six strategies should hopefully convince you to reconsider.
Do not let a lack of financial resources prohibit you from being in the game because video marketing is an essential component of content development that may drive sales.